LATEST NEWS
A story telling session was held for the students of grade 5 to grade 9 on 5th of August 2015. The students were divided into groups. The sessions were taken up by Ms Jayalakshmi of Sapna Book House Coimbatore.
The story telling was made interesting with the use of puppets and background music, using an African instrument called the Sansula. Stories ranged from 'Cinderella' for the younger students (grade 5 & 6) to Mani and Rajam by R K Narayan (grade 7 & 8)'The Cherry Tree' by Ruskin Bond (grade 9).
They also highlighted contemporary social and environment issues as well as values for good living, like healthy eating, concern for others and the environment etc in the sessions which went with the flow of the story. They also encouraged sharing and story telling by the students.

The sessions were enjoyed thoroughly by the students.
SOCIAL SCIENCE WEEK CELEBRATIONS
Social Science week was observed from 03/08/15 to 08/08/15.  The main objective of this week was to create and sustain interest in Social Science, as a distinct branch of knowledge. During this week, a variety of activities were undertaken to sustain interest in the study of Social Science.
To begin with, on 04/08/15 students of Std V listened to the voices of some of the great stalwarts of India and the world.  This activity was done to create a flair for the happenings in the past which happens to be the womb of the present.  This was followed by an activity in which 5 students traced the origin of 5 useful inventions that have evolved over a period of time.  This activity was done to drive home the point that things keep evolving regularly and change alone is the guiding principle in the world.  The program got over in the form of a voice vote in which students rated the top 5 useful inventions.
Students of std VI were exposed to the contextual and conceptual aspect of India's national anthem. Then, they were made to listen to the National anthem of Srilanka and Bangaladesh.  This was done to bring out the element of similarities in the structure and thematic value of national anthem, which reiterates the ethos and values of a nation as a whole.  This was followed by an activity called partial hieroglyphics in which the students were made to decode the icons used in the sentences that were shown on the screen.  This activity was aimed at reviving a crude but pictographic way of language which evolved out of sheer necessity.

Students of Std VII took up three pertinent social issues.  Three students spoke on three pertinent issues and in the end, they obtained signatures from those who agreed with their view points.  This activity is called "Signature campaign".  This activity was aimed at making the learners understand the need for debate, dialogue and discussion which forms the very essence of democracy.  On 6/8/15, the students of std VII were taken to  the Forest College Museum. This trip was arranged to reinforce the fact that museums are the repositories of historical and geographical knowledge.  Prior to the visit, they were briefed about the purpose of the visit.
Being the 800th year of the enforcement of Magna Carta, the students of Std VIII were instructed to come up with a list of 10 rights which they need whenever they have access to internet. Besides this, the students also came up with the rights which they have as a consumer in a shopping mall, as a commuter in the public transport and as a student of a residential school. This was done as a group activity.  In each group, the members did a bit of brainstorming before they came up with their inputs. This activity was primarily designed to bring out the element of civic consciousness.
A Power Point Presentation on the slogan that made a lasting impact in the minds of the people was screened.  This presentation was a blend of the slogans that were raised in the Indian freedom movement, Struggle against apartheid regime, American war of independence and it also had a segment where the slogans of revolutionary leaders were incorporated.  This activity was done to convey the fact that slogans have mobilized a great deal of public support for any nation-building or anti-colonial endeavours.
On 8/8/15, the students of Std X listened to the speech of the Honourable Prime Minister of India's recent address as part of his Maan-ki-Baat speech on the importance of International Yoga Day and selfie with daughters campaign.  They were asked to share their memorable experiences in the recent past.
Std IX students have been asked to make a data bank of the important toll free numbers which are of use to the members of the society. In addition to this, Std IX students were briefed about the significance of the quit India movement resolution.
Snippets of the Social Science week celebrations:
A quiz titled "Down the memory lane" was conducted in Junior and Senior assembly on 4/8/15.  Questions in this quiz revolved around historical aspects of national and international arena besides a special focus on civic consciousness.

 SST quiz for seniors was held on 5/8/15. The focus was to test historical and geographic aptitude of the learners.  Questions pertaining to the glory of ancient and modern India was given due importance.

Students of Std IX and X were asked to write their views on the greatness of Dr. A. P. J.  Abdul Kalam in the sticky notes which were stuck on a movable bulletin board.  Std VI students were asked to describe Dr. Kalam in one word. 

Ye mere India, the animal anthem of the Animal Planet channel was shown in Std V to X.

On 8/8/15, the Members of the Junior quiz club had a quiz that revolved around Social Science.
On the whole, the department managed to achieve the impact that we desired to create.
SUBHASHI WINNERS (AUGUST 2015)
"Subhashi badge" is an honour bestowed upon those students who avoid the use of foul language. The following students were awarded a "Subhashi badge" on 3rd August 2015.
| | |
| --- | --- |
| Name | Class |
| Siri Majety | V - A |
| Rakshena Sri | V - A |
| Raaja Chockalingam | VI - A |
| Varaanya Shroff | VI - A |
| E. G. Jaswenth Vishnu | VI - B |
| Vaghasia Veer Vipulbhai | VII - A |
| Srinivasan L. | VII - A |
| Mananshu Nileshbhai Mandaliya | VII - A |
| Krishna Sourya Vatti | VII - A |
| Shruthi Krishnamoorthy | VII - B |
| Akshita K. | VII - B |
| Shubhi Atul Agarwal | VIII - A |
| S. Suhan | VIII - C |
| S. V. Jaishwin | 11 Management |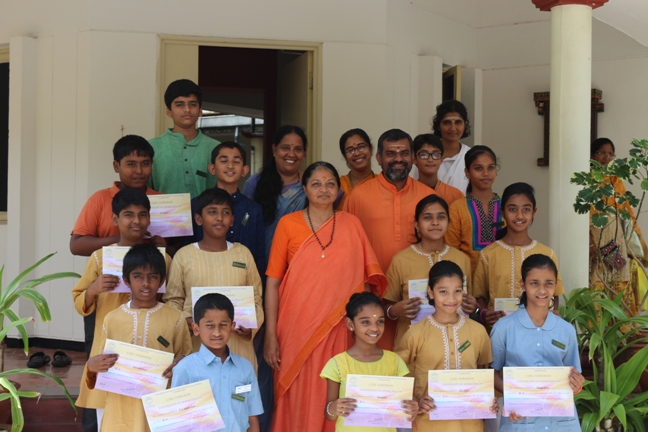 3rd August 2015 is very special for the whole Chinamya family, as it was on this day that Swami Chinmayananda took Mahasamadhi. The day started with Gurudev's Paduka Pooja i.e. "Poojanam". Everyone offered flowers to Gurudev's photograph and chanted 108 names of Gurudev. After breakfast, all the students chanted "Shri Chinmaya Sadgurave Namaha" 108 times and few videos were shown about Gurudev. This was followed by "Investiture Ceremony". In this ceremony all the outgoing council members passed on their responsibilities to the new members. New council posts were handed badges and they took the oath to do their duties.  The next program was "Vasthradanam" in which clothes were offered to the Sanyasis. The day ended with the "Keertnam" program. The program was a treat to the ears and eyes in the form of song and dance. They sang Gurumahima and Gurudev's 108 names along with a story which was narrated by Mrs. Rajeshwari. The bhajans chosen were soothing and the under current of all the bhajans were expressing our respect and gratitude to that great Master. This was followed by a dance performance expressing the salutations and reverence to our Pujya Gurudev who is our glorious teacher.
Click here to view the gallery.
The following students have been selected as the Students' Council Members for the Academic Year 2015 - 2016.
Position

Boy

Girl

Student Dean

Anand Natarajan

Aarshi Narsinghani

Literary & Cultural  Secretary

Sr

Uday Gosain

Kaavya Kumar

Jr

Kirtthik A. J.

Ashwini Sridar Athreya

Sports Secretary

Sr

Shravan V

A. P. Sagarika

Jr

J. P. Ajay Shiv

Mahak Bhandari

Valmiki House

Sr

Anant Deorah

Apeksha Garg

Jr

E. Sudarshan

Sasha Duarah

Vasishta House

Sr

Divyansh Agrawal

Mridula Athreya

Jr

Harsh Anish Shah

J. M. Rithani

Vishwamitra House

Sr

Utkarsh Gupta

Kirtana Valluri

Jr

Mirlon Goriya   

Abhipsha Majumder 

Vyasa House

Sr

E. Arjun

Anjani Thakor

Jr

Arjun Shrirangan G.

Dhruvi Vinod Patel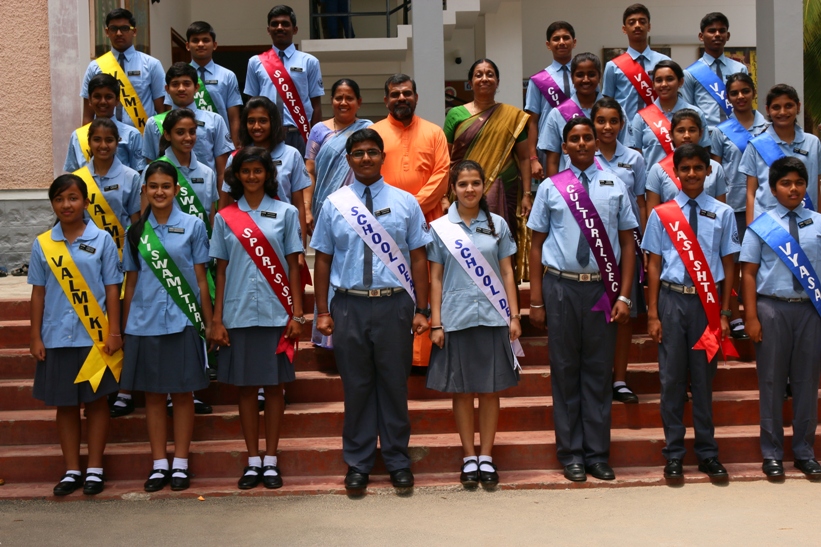 Click here to view the gallery.
SAHODAYA TENNIS TOURNAMENT 2015
Our school hosted the 38th Sahodaya CBSE Schools Tennis Tournament. The tournament was held from 31.07.15 to 01.08.15. Our School secured the second position in Overall Championship. The results are as follows:
Under 14 Singles (Girls)
 Meghaa H Asher - Winner Up
Under 14 Doubles (Girls)
Meghaa H Asher - Winner Up
Stuti Bhavesh Chovatiya - Winner Up
Under 19 Singles (Girls)
K P Shrinidhi - Runner Up
Under 16 Singles (Boys)
G N Koushik Karan - Winner Up
Under 16 Doubles (Boys)
G N Koushik Karan - Winner Up
Vignesh Harikrishnan - Winner Up
CELEBRATING THE JOY OF HAVING A GURU
CIRS celebrated Guru Poornima on 31st July 2015. All the students and teachers assembled at the MPH at 8 am. The outgoing student council and class representatives performed a pooja which consisted of offering prayer and showing gratitude to Veda Vyasaji and the whole guru parampara. Then, the students took the blessings and good wishes from all the teachers by touching their feet and receiving akshada. The students prepared cards for their teachers to show their gratitude to them.
During the evening aarti senior students performed a skit and then followed by a dance performance by Devika and Varsha of grade 9 on Guru. The evening ended with an energetic bhajans by our music team.
Our school participated in 38th CBSE School Sahodaya Swimming Meet from 11.07.15-21.07.15 held at Amrita Vidyalayam, Coimbatore. Around 350-400 students from 15 different schools participated and out of them our students brought laurels to our school. A special mention to Mahak Bhandari as she received Individual Championship in the Under 16 girls category.
The results are as follows:
Under 19 Category
Girls Individual Events
Name

Event

Medal

Sejal Bahl

50 m Breast Stroke
100 m Breast Stroke


Silver
Silver


Ratikka R
50 m Free Style
100 m Free Style
100 m Breast Stroke


Bronze
Bronze
Bronze

Girls Relay Event
Name

Event

Medal

Sejal Bahl
Ratikka R
Rithvika R Murugaiyan
Vasika V G


4 * 50 m Free Style


Silver


Sejal Bahl
Ratikka R
Rithvika R Murugaiyan
Vasika V G

4 * 50 m Medley Style

Silver

Boys Individual Events
| | | |
| --- | --- | --- |
| Name | Event | Medal |
| Kaustubh K Iyer | 50 m Breast Stroke | Silver |
Under 16 Category
Girls Individual Events
Name

Event

Medal

Mahak Bhandari

400 m Free Style
50 m Back Stroke
50 m Butterfly Stroke
200 m Individual Medley


Gold
Gold
Gold
Gold


M Geetanjali
50 m Back Stroke
100 m Free Style
100 m Back Stroke


Bronze
Bronze
Bronze


Padmashree P

100 m Free Style
200 m Free Style


Gold
Silver

K V Kovarthana
50 m Free Style

Silver
Girls Relay Event
Name

Event

Medal

Mahak Bhandari
M Geetanjali
Padmashree P
K V Kovarthana


4 * 50 m Free Style


Gold


Mahak Bhandari
M Geetanjali
Padmashree P
K V Kovarthana

4 * 50 m Medley Style

Gold

Boys Individual Events
Name

Event

Medal

Haswanth P

100 m Breast Stroke
50 m Breast Stroke
50 m Back Stroke
50 m Free Style

Gold
Silver
Silver
Silver


Gangadhar Sriram
200 m Free Style

Bronze
Boys Relay Event
Name

Event

Medal

Haswanth P
Prakhar Jain
Gangadhar Sriram
Vishwajeet


4 * 50 m Free Style


Bronze


Haswanth P
Prakhar Jain
Gangadhar Sriram
Harsh Anish Shah

4 * 50 m Medley Style

Silver

Current Issue Awareness C.I.A was launched on the 17th July 2015 by the 11th Management class with the aim of communicating an in depth analysis of a current issue. Five students presented the issue of Kashmir from its genesis to the present day. Videos and pictures interspersed the oral presentation to reiterate facts and re confirm the data and analysis presented. The session was an hour long and Chinmaya Kabra, Srinidhi Chandra, Uttkarsh Gupta, Devansh Lohariwal and Uday Gosain presented the issue with utmost clarity. The presentation was aimed at bringing awareness to the students of classes 9 to 12. The audience was attentive and displayed an increased level of awareness at the end of the presentation by participating in a Quiz designed by Mr. Diwakar on the issue. The forum was conceptualised by Mrs. Roopa Gosain, supported by Mr. Diwakar. It inspired the students to reach greater heights of awareness. The forum is geared to discuss other world issues in the forth coming weeks with the aim of honing other young presenters to come forth and share the detailed analysis of the selected issue. The programme was undoubtedly the Chinmaya Vision Programme in action. The Principal applauded the new venture and complimented the team on successfully launching a new platform for the students to express.
| | |
| --- | --- |
| | |
The Senior Science Quiz was held on the 14th of July, 2015 for classes 11 & 12. There were three exciting and innovative rounds.
The first round was the General Round with questions linked with CVP. There were four categories, Science in Indian Culture, Science in Sports (physical development), Indian Scientist (Patriotism) and Current Science and Technology (Universal Outlook).
The second round was the Problem Solving Buzzer Round. Problems based on Physics, Chemistry and Biology were asked. This round kept the participants on their toes.
The third round was the Activity Based Round where different activities from Physics, Chemistry and Biology were demonstrated using experiments and mime.
All the teams did their best. In the end Vasistha House represented by Kaustubh and Supreeth from 12 science and Amrit and Divyansh from 11 science, emerged as the winner of the Senior Science Quiz followed by Valmiki and Vyasa house as runners up.
Everyone enjoyed the quiz and it was a learning experience for both the participants and the audience.
The yogic science is of utmost significance now, like never before, soon after United Nations has declared 21st June as International Yoga Day. Chinmaya International Residential School has strong-willed to celebrate a week from 10th July to 17th July 2015 to celebrate this particular occasion.  On 10th July, at 8.40 am in the assembly our yoga teacher Sri.Varutheeswaran gave an inspirational talk on "Yoga" in which he shared his experience from the yoga conference conducted by the ministry of AYUSH and CBSE at Delhi on 22nd & 23rd June. To highlight the benefits in the ten systems of our body, he took one asana and explained the fine points. Soon after his speech our madam Principal shared her observations and declared open the entire week plan for the yoga celebration.
On 11th July, in the very next day at 5.30 am 100 children performed a Mass Yogasana session in the Multipurpose Hall submitting ourselves to our Gurudev on his centenary birth year. Keeping the motto "Unto him our best" in mind and striving hard to perfection, the young children performed 21 asanas to observe 21st International Yoga Day. There were 5 standing asanas, 5 sitting asanas, 5 forward bending asanas and 5 backward bending asanas with a pranayama and yoganidra displayed by the whole team. This unique blend of physical postures really helped children bring their body, mind and spirit into better balance.
On 13th July, at 7.55 am and 8.45 am in the morning assembly, the students of IB 1st year gave a cultural talk on "What is yoga? The four paths of yoga. The students spoke on Bhakti yoga, Jnana yoga, and Karma yoga. They highlighted the well-known and wildly practiced path, Hatha and Raja yoga emphasizing on its practical aspects, particularly its asana (posture) and pranayama (breathing exercise). After the cultural talk, children understood that each of them is a complete discipline in itself, it is best not to follow one path alone. Combining the four practices helps the emotional, intellectual and physical aspects of one's life to develop in harmony.
On 14th July, at 7.55 am and 8.45 am in the morning assembly, the next set of IB 1st year students presented a talk on "Ashtanga Yoga". Highlighting Sage Patanjali's Yoga Sutras, students presented the eight limbs of yoga and how it purifies step by step the body, the mind until enlightenment occurs. This talk has drawn an excellent attention by the children. They even understood that yoga is not just an exercise system. It is a profound form of evolving a human being. It is about a very deep understanding of the human mechanics – not only of the physical dimension but of all aspects of a human being. The same day quiz on asanas had been conducted. Children learnt the traditional names of the yoga postures. They were enjoying responding to all the questions related to yogasanas.
On 15th July, at 7.55 am and 8.45 am on Wednesday in the assembly during the cultural talk the IB 1st year students presented a talk on five principles of yoga. That was an inspiring and beneficial talk in which the children gave a complete understanding to live a balanced life. To run a daily routine they briefed about the main aspects like proper exercise, proper food, proper relaxation, proper breathing and positive thoughts. After cultural talk a constructive talk on ''Concentration" was given by a junior school student in the junior assembly. In the senior assembly time, a senior student gave a talk on"Yoga, how it clears Ego". All the talks were well designed and delivered to the children to get the maximum benefit.
On 16th July, at 7.55 am and 8.45 am on Thursday in the assembly throughout the cultural talk the IB 1st year students presented a talk on ''Yoga for children". In this speech they highlighted about how yoga poses benefits to children. They demonstrated Suryanamaskar on the stage and presented the way how it was performed in ancient days and now.
On 17th July, at 7.55 am and 8.45 am on Friday in the assembly, during the cultural talk the IB 1st year students presented a talk on ''Breathing techniques in yoga". The various pranayamas are demonstrated and explained how it has to be performed. They concluded with the common errors one does while doing yoga practices. It was indeed beneficial for all the children. At last the yoga teacher closed the yoga week celebration with vote of thanks by expressing his gratitude towards all the teachers and students.
"Yoga is a light, which once lit, will never dim. The better your practice, the brighter the flame" said the yogi B.K.S.Iyengar. As the master yogi said, the light has been lit in the young minds which will never dim. They will grow brighter and shine.
Nowadays, a lot of young people are taking yoga because it is usually the youth in the world who discovers the truth. They are in the making and they can shape themselves in whichever better manner they want to lead their life. We hope the students will internalize the inherent benefits of yoga in a way where stress drains out our level of inspiration.
MATHEMATICS WEEK CELEBRATIONS 2015
The Mathematics week for the year 2015 -16 was celebrated from 6th July 2015 to 11th July 2015. The whole week was filled with lots of fun filled activities.
6th July 2015: An introduction of the happenings of the week was presented by Mrs. Shanti Krishnamurthy (HOD of the Mathematics department) in the assembly. It was followed by a humourous video presentation by Mr. Vivekanandan, which motivated the children to create a love for the subject.
7th July 2015: Assembly Quiz based on Mathematics was conducted by the students. All the houses participated with enthusiasm.
8th July 2015: Cultural Talk on Lilavati was presented by Shreyansh and Deekshita of class 10. It gave the glimpses of the work done by our ancient Mathematicians.
8, 9 and 10 July 2015: In the evenings 'Maths Run' for classes 5 to 12 was conducted house wise. All the 106 students of class 5 and 6 and 286 students of classes 7 to 12 participated and enjoyed all the 8 Maths games at eight stations. House points were given.
9th July 2015: In the morning assembly, student talk based on the Applications of Mathematics was presented by Mydhili of Grade 8 for juniors and Niranjana of Grade 11 for seniors. There was a sense of wonderment in the talks when they shared some of the rarest facts.
10th July 2015: Teacher talk based on 'Yoga' was presented by Mr. Varutheeswaran for Senior School. He talked about the angles formed in the asanas and its benefit.
11th July 2015: Five students of class 10th, who attended the Vedic maths camp organised by CIF in the month of April 2015 gave Vedic maths presentation in the assembly. They explained the Pythagorean triplet as ancient Indian mathematician Boudhayan has given before Pythagoras has discovered.
All the activities of the Maths week 2015-16 were conducted aligned with the Chinmaya Vision Program (CVP). The Maths Quiz (Intellectual development), the Culture talk (Indian culture), Vedic Maths Presentation (Patriotism and Spiritual) and the Maths Run (Physical, Intellectual and Emotional). As a whole throughout the week it was a great learning experience.
SAHODAYA TABLE TENNIS INTER SCHOOL TOURNAMENT
38th Sahodaya Table Tennis Inter School Tournament was organised by Soundarrajya Vidyalaya School, Dindukal on 14th of July 2015. Our School participated in various categories. In the Under 14 Boys category Tarun Rajkumar & Sourish S Kumar emerged as Runners up in Doubles. Sourish S Kumar got the promising player award.
The sky was overcast and the drizzle threatened to continue as CIRS geared to welcome its spiritual Master and Guide Gurudev into its precincts. The air was writ with anticipation as Gurudev embarked from the Chinmaya Sandesh Vahini. HIS 'Jyoti' that burnt resplendent, HIS 'padukas' that echoed the blessings of a million miles of spiritual journey and HIS 'vastras' that had graced HIS human form were welcomed with prostrating hearts by one and all !
On 28th June, 2015, at 2:30 in the custom of the traditional Hindu welcome the great Sage was welcomed with the 'Poorna Kumbha' amidst Vedic Chanting and mantras by Swami Swaroopanandaji and Swami Anukoolanandaji. The vibrations of the Multi Purpose Hall wove threads of reverence in each one present and the whole fabric of the laity was an insignia of love and devotion. Those who hadn't had the fortune of having met Gurudev in HIS life felt fortunate to be present to feel HIS benign presence around them.Gurudev our Master was amongst us in material form and all rejoiced as they revered the Great Master by performing a 'pooja' and cleansed the pirits by singing Gurudev's 'aarti'– a blessing, a benediction!
The spirit of Gurudev was so tangible that one felt it in every breath of air that one took in.The 'Yagnatorium' that paraded the pageant of Gods and revealed the significance of the ideal behind the idol, wherein the student scould connect to the Lord was spiritually edifying. In batches of 30, the 'Yagnatorium' was a pilgrimage for seekers the whole day and the warmth that the exhibition of the 'meditation' heralded by Gurudev in HIS own voice took the seeker onto a different plane altogether. The students soaked in the experience of becoming aware of higher levels of goodness and grace.
The lake that ornaments the bounty of Nature was the venue of the next agenda at 5:30 p.m, where piety of the spirit and the therapeutic balm of water synthesized into a festive celebration as Gurudev's presence graced the waters. On the raft midst much chanting and dancing Gurudev's aura exuded tranquil blessings upon the staff and student fraternity. The 'aarti' of Gurudev at the center of the lake to the chanting of 'jappas' and 'bhajans' reverberated throughout the concrete and natural edifices and integrated the past and the present into one whole cornucopia of sublime love.
At 6:30 p.m the procession from the lake once again entered the Multi Purpose Hall and the stage was set to perform the 'Paduka Pooja' of Gurudev, a blessing for the seeker. As the Principal and the Headmistress performed the 'pooja' of the Master whose knowledge made firm every step that sought direction, the hall was immersed in deep devotion . The students presented a Dance–Drama entitled 'Footsteps' depicting their gratitude to their beneficiary Swami Chinmayanandaji. It was a work offered in gratitude with the spirit of 'Unto Him Our Best', the reigning motto of the year commemorating HIS Birth Centenary Year. The excellence of the performance was heard in the applause and that it was an offering 'Unto Him' that made it all possible.
The lighting of the Chinese lamps that adorned the skies of CIRS were a signature of the 'Jyoti' of Gurudev that illumines and makes bright each life touched by the presence of the sublime Master. The ornate skies of CIRS came alive with the magic of these lamps and one felt the uplifting echoes of the soul in unison with the Divine – Our Master.
Thus, began a new era in the life of CIRS where the blessings of Gurudev find redolence in all aspects. Be it in the touch of a blade of grass at Arjuna Field or be it in the whisper of the breeze caressing the waters of the lake or be it in the stoic strength of the quadrangle or be it in the vibrancy of the Multi Purpose Hall Gurudev's benevolent presence resides and makes pure every sinew and every fiber of CIRS come alive and dance , with HIS Divinity. We at CIRS are indeed blessed and remain blessed!
GEETA CHANTING BY THE BALMANDIR STUDENTS
Beginning your day with prayers is a beautiful start to a wonderful day. Little ones of Balmandir (Primary wing) reciting Bhagwad Gita Shlokas in their morning assembly. Chanting the shlokas connects the children to their culture, it also helps them in improving their memory and concentration.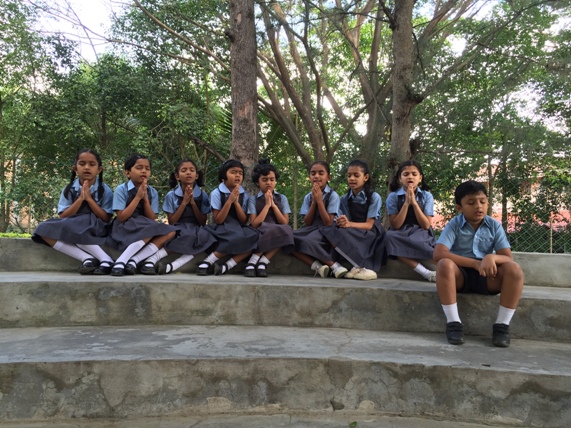 Few of the Class X students namely-Deekshita Muthukumar, Krishna Priya Mohan, Akshaya S Iyer, Mithila Babu Mani and Praneeta Tiwari attended a 5 day camp called "Vedic MATRIX 2015" at CIF from 27-04-15 to 01- 05-15. It was the 6th Annual Residential Camp conducted by Mr. Vinay Nair (Head of School of Vedic Mathematics). This camp educated the children on the glories of our own Indian Mathematicians. They were quite surprised to realise that the famous Pythagoras theorem had been earlier proved by Baudhayana and it was called Bhuja Koti Karnaya. They practised construction of geometrical figures with a simple rope and nail in the same way as how the earlier Mathematicians did. They were exposed to the real life problems from brahma Gupta's Leelavati.The Katapayadi number system was introduced and they learnt how our Indian Scholars decoded messages. The camp proved to be an interesting, fact filled and enriching learning experience.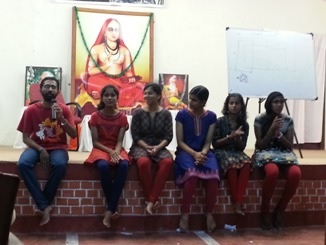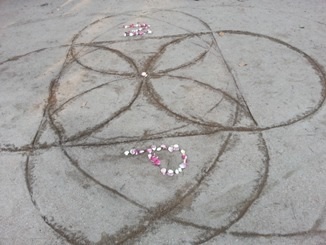 A BRITISH COUNCIL WORKSHOP ON CREATIVITY AND IMAGINATION
A two day workshop on creativity and imagination was held under the auspices of the British Council at Radison Blue hotel near the Chennai airport on the 14th to 15th April 2015. The workshop was primarily for the teacher community. Teachers and educators from all over the county attended the workshop. "The conference of Radison Blue came alive with pertinent decisions regarding the concept of creativity", said Ritika Chandan Parruk the assistant director (representative of India). She said that during the workshop one of the main highlight she stressed on was that, teaching creativity and creative learning was two different concepts. She said that our team made this difference visible during the workshop through interactive secessions brainstorming and innovative games. She exclaimed, "The thrust of the ideas was also on the need to create resources to complement the creative process in the classrooms." She also said that the amorphous landscape of thought acquired somewhat sharp focal points that would trail blaze the process.
Miss Concherane Rose and Mr Peter P, the two resource persons representing the British Council facilitated the two day session. Mr Peter said that while looking at the Indian class room situation we tried highlighting the need to create a creative interactive ethos that cautioned the teachers in the classroom to "diagnose and not prescribe". To unleash creativity, alternative environments, co construction of knowledge, creation of resource base, innovative and imaginative and "re imaginative" approaches could bring about a change in the ethos of the Indian class room scenario. Mrs Roopa Gosain from the English Department and Miss Paramita Das attended the workshop from our school. "It was a lot of food for thought," they said.
CIRS EXCELS IN 10TH STANDARD BOARD RESULTS
The Management and the Principal of CIRS congradulate the students of grade X for their outstanding performance in their board examinations conducted during March 2015. The salient features of the results are as follows:

No of Students Appeared: 88
No of Students Passed: 88
No of students who secured grade point 10(95% and above) : 27
No of students who secured grade point 9(86% and above) : 37
No of students who secured grade point 8(76% and above) : 23
No of students who secured grade point 7(70% and above) : 1
Average marks: Grade point 9(85%)
CIRS SCALES GREATER HEIGHT IN CLASS XII BOARD EXAMS

An organisation called K-12 compiles the class12 Board results and ranks schools on the average performance of the students. This year with 91.596%, CIRS has got 5th Rank among 5433 schools offering class12 with the CBSE Board. Last year we were on the 17th rank in all India level with 88.9% as the average of the school.
GAURAV AWARD

Our dear principal Smt. Shanti Krishnamuthy received the Chinmaya Gaurav Award from Param Pujya Guruji on 22.05.2015 at a function held in CIRS.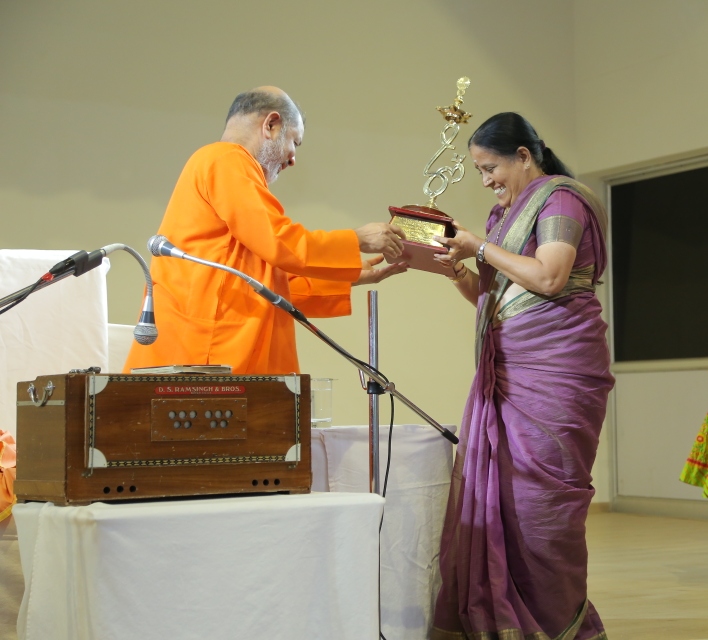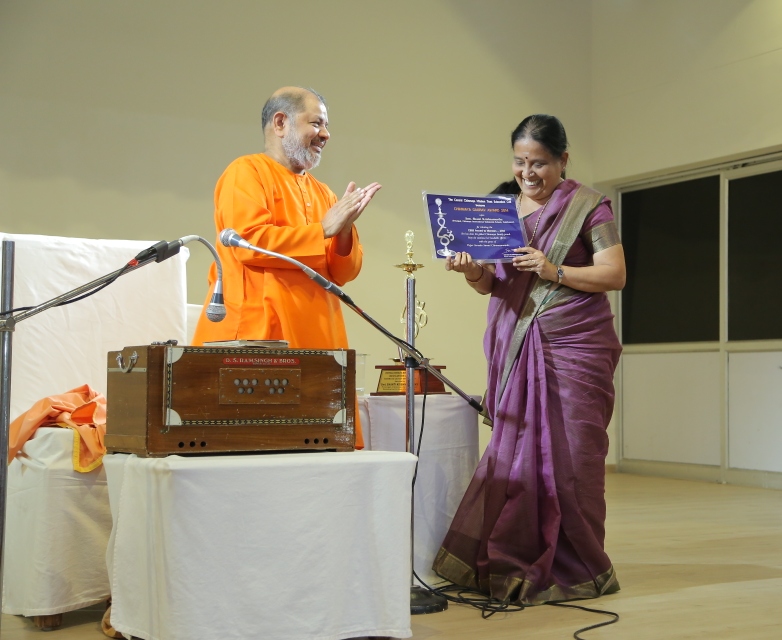 CIRS EXCELS IN 12TH STANDARD BOARD RESULTS
The Management and the Principal of CIRS congradulate the students of grade XII for their outstanding performance in their board examinations conducted during March 2015. The salient features of the results are as follows: 
Science Stream:

No of Students Appeared: 22
No Of students Passed: 22
No Of students who secured above 90%: 14
No of students who secured 75-90% : 8
Average marks: 91.18%
Topper name and percentage: Master Ariharan N : 96% & Mater Ayush Anand : 96%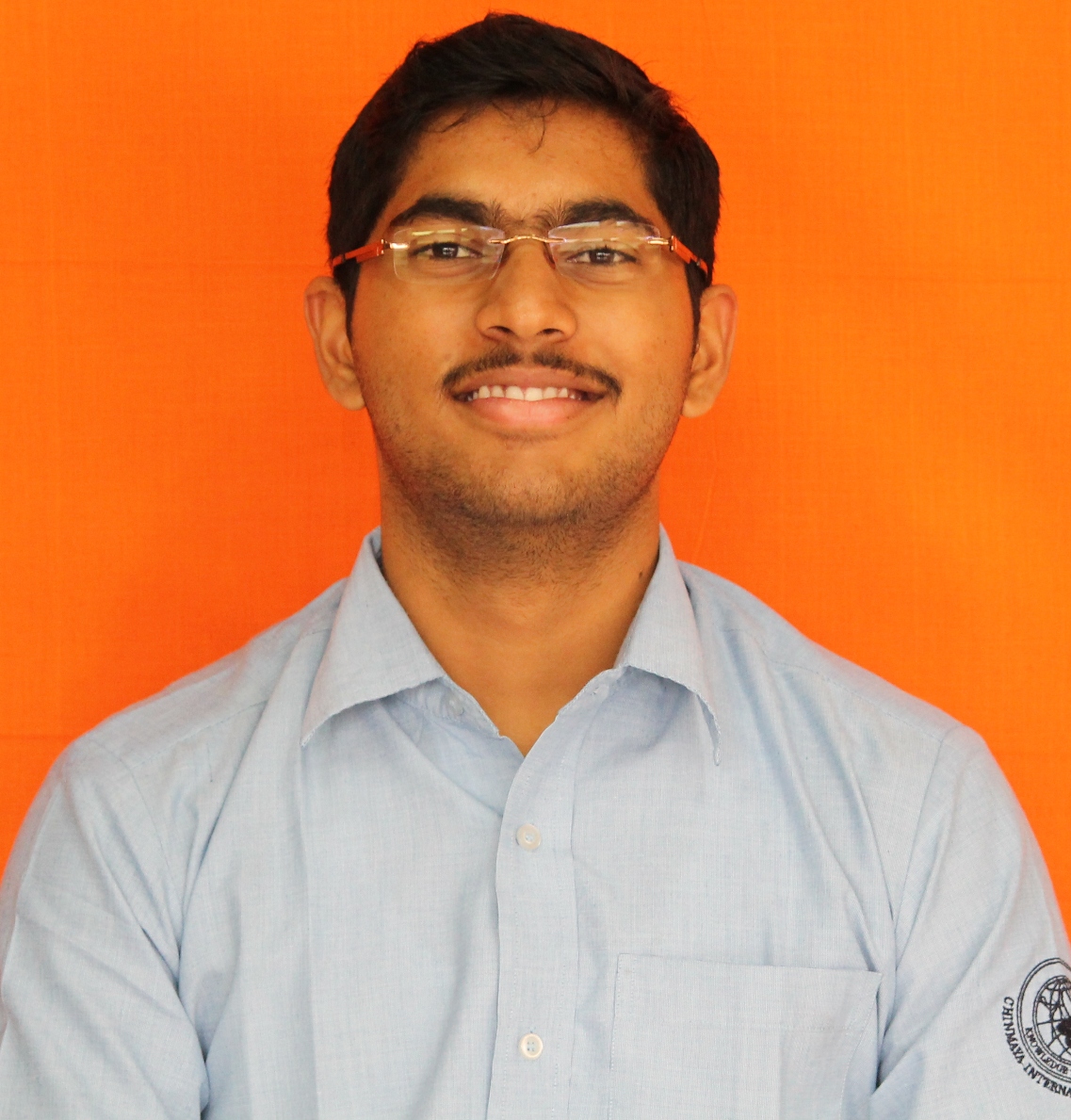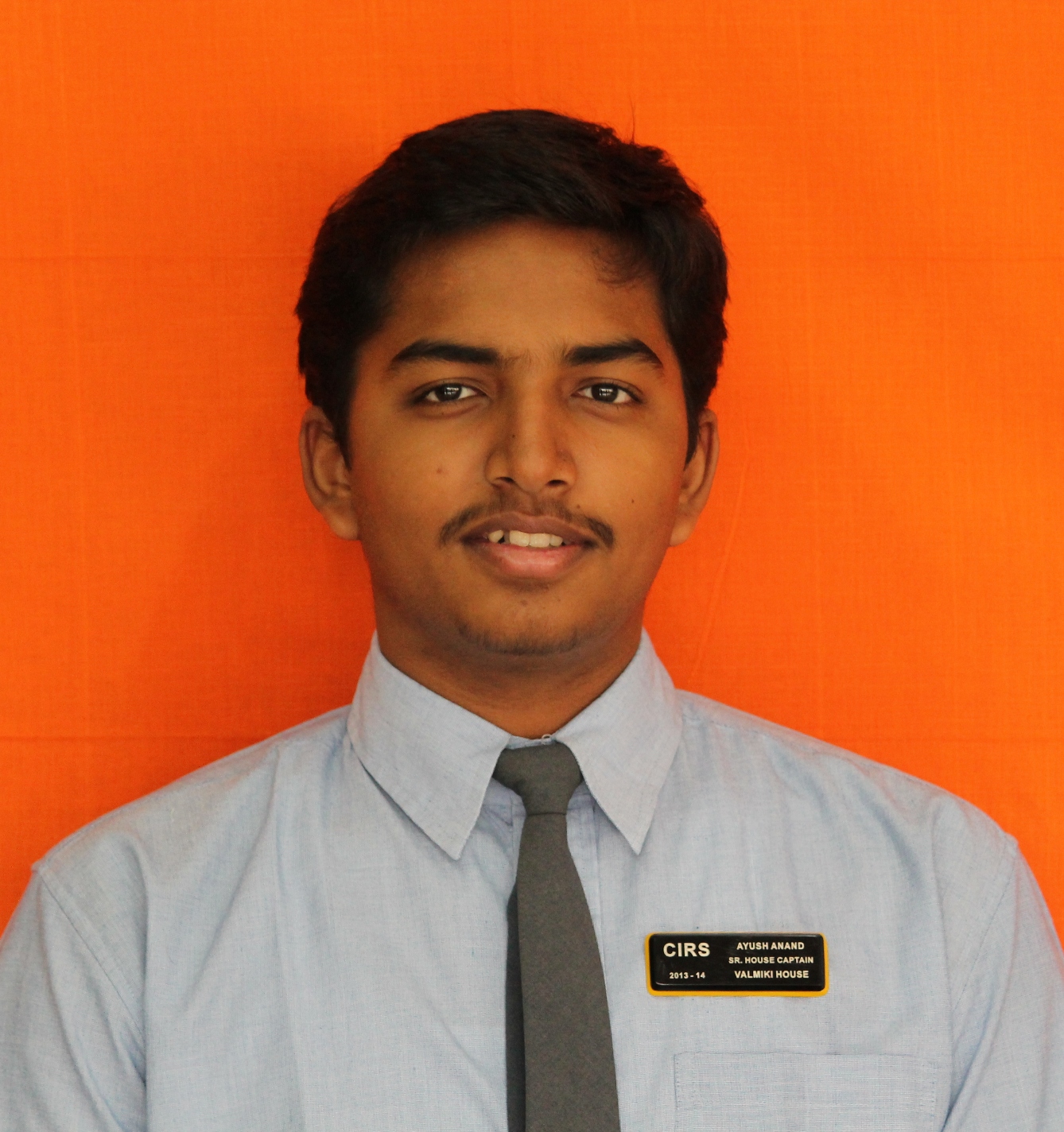 Management Stream:

No of Students Appeared: 24
No Of students Passed: 24
No Of students who secured above 90%: 19
No of students who secured 75-90% : 5
Average marks: 91.98 %
Topper name and percentage: Kum Yukti Sarawgi : 96.40%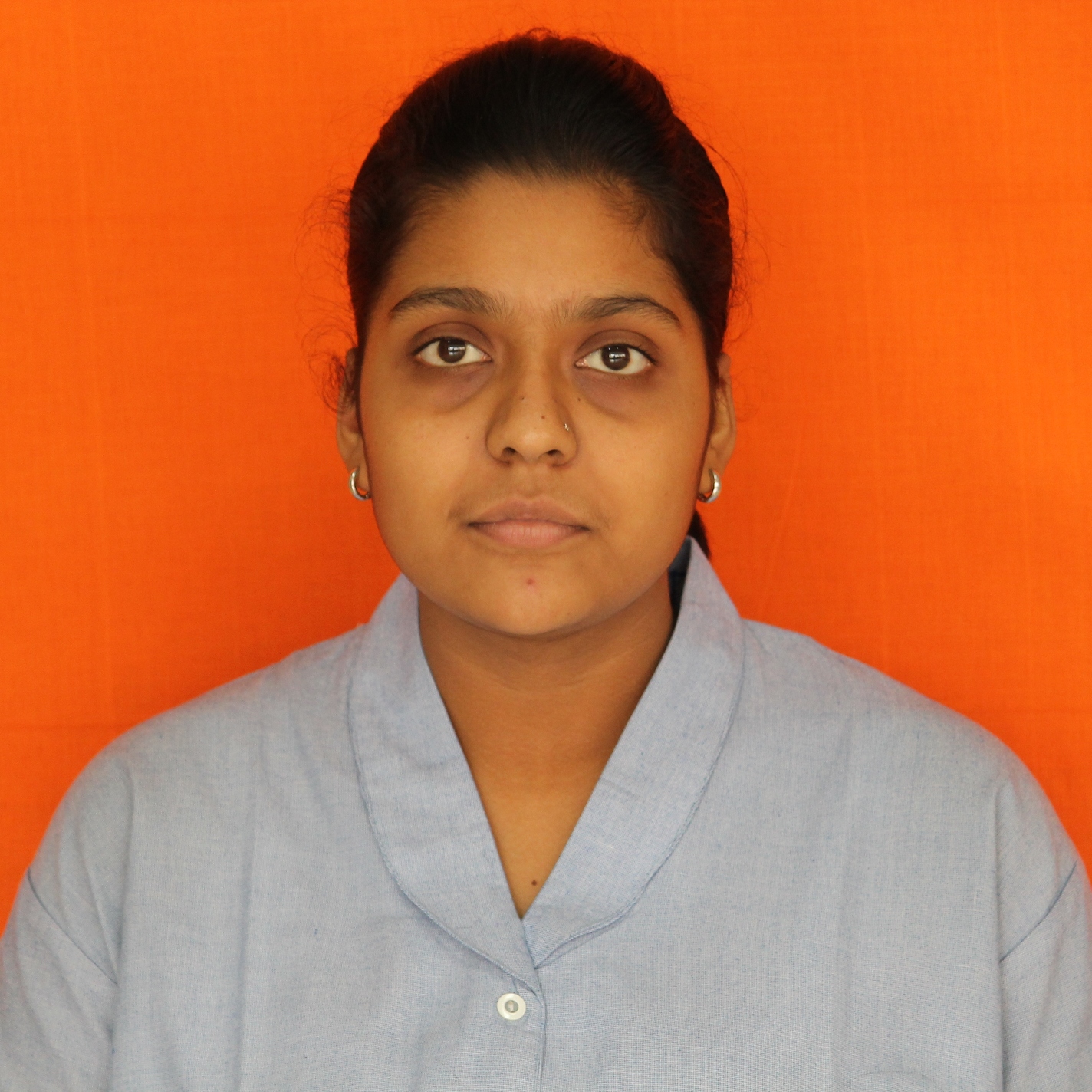 On 29/04/2015, Wednesday, the Department of Languages had organized a Hindi Debate for the senior school students. The Debate started at 7.00 pm in the Multi-Purpose Hall after Chinmaya Aarti. There were two participants from each house to speak in favour of and against the topic. The topic was 'Bound Family versus Nuclear Family'.
The participants presented their arguments convincingly and made the even lively and interesting. We had Mr. Rakesh Kumar Das and Mrs. Sangeetha Shukla, both from the Department of Mathematics as the judges.
Prizes for the first, second and third positions were given and also consolation prizes were included. Two of our class nine students did a wonderful job as the anchors and their efforts were also recognized with a gift to each.
The principal Smt. Shanthi Krishnamoorthy gave away the prizes.
The Physical Education Department conducted the Cross Country Race on 29th April 2015. The results of the first 20 positions are as follows.
Junior Girls
Sitara. A .Karthikeyan, Prachi Dokania, S Aishwarya, Harshita Pasari, S.Pon Siva Priyaa, S K Shrinitha, Sadhana Shivani L, Stuti Bhavesh Chovatiya, S Neha, N Indirani, S Nandita, Prachi Mohta, Navya Khemka, Mrithika V.G, Sakthi S, Sathvika J, Shankari Karthikeyan, Surtarangini Devi, Ishika Madaan, Shasna S.N.
Junior Boys
Pranov Krishna, Mann Vinod Goyal, Abhinav Narayanan Kutty, Anirudh P.K, Sushain Garg, Prateek Tripathi, Arjun Kumar, P. Sudharshan, Sahaj Surana, Ayush Yadav, Aditya Kumar, Anssh Anand, Arnav Alok Ghurde, Manan  Bhanderi, Shravan Shriyushkumar Gajera, Omesh Muppirisetti, Venkatesh Marella, Mehul M Patel, Maanit Chovatiya, Tarun Rajkumar.
JUNIOR STATE NON RANKING TENNIS TOURNAMENT
Our students participated in the Junior State Non Ranking Tennis tournament held at Levo Sports, Kalapatti , Coimbatore on 19th and 21st April 2015. The results are as follows:
Under 14 Girls
Singles : Meghaa H Asher - First position
CIRS motivates children and adults to learn to chant the Geeta and inculcate its values and bring its time tested and invaluable wisdom to as many people as possible especially to the young, tender and growing hearts.
As part of the preparation for the Geeta Chanting Competition to be held during August – September, verses from the Geeta (Chapter 15 - Purushottama Yoga) are being read during the morning assembly.
The English Department of CIRS conducted the Senior Spell Bee Competition 2015 with the objective of promoting students knowledge of proper word usage, encouraging students to strive for excellence in spelling skills and providing an opportunity for students to meet and compete with their peers in an atmosphere of fun and friendship.
The competition was conducted on 22nd April 2015 for Juniors under two categories namely - Classes 9 and 10, Classes 11 and 12. The competitors were selected by their English teachers through a series of written tests and oral "spell-offs" conducted during the previous few weeks.
The following contestants were declared as winners in the respective categories.
Classes 9 & 10
Chintada Seshank Bharadwaj (VII A) - 1st position
Ved Prakash Murarka (IX B), E. Sudharshan (IX C) - 2nd position

Classes 11 & 12
Roshan (IB 1st Yr) - 1st position
Kaustubh K Iyer (XII Science) - 2nd position
MANIFESTING DIVINITY QUIZ CONTEST
Anand Natarajan of 11 Management was one among the top 25 out of the 12000 participants who were selected for the final round of "Manifesting Divinity" quiz organized by CCMT Education Cell.
The CCMT Education Cell organized the "Manifesting Divinity" quiz contest for Chinmaya Vidyalaya students all over the country. In the 1st level about 12000 students participated from which only 1000 students qualified for the 2nd round. 6 of our students made it to the 2nd round. It is a matter of pride that Anand Natarajan of 11 Management made it to the final round to become of the top 25 of the country. The final round was conducted on 18th April 2015 at Vadavalli Chinmaya Vidyalaya. Anand along with 18 others received a memento of Gurudev's lamp, a cheque of Rs 3000 and a certificate.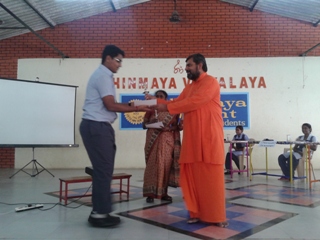 Flood light Soccer is one of the most awaited events in CIRS. This year the Soccer Tournament was well organized and conducted on 20th & 21st April '15. The players played very well with good sportsmanship spirit. The audience also enjoyed the tournament. Boys and girls of all age groups and Houses took part in the event. This year there was a fluctuation in the results compared to the previous years.
The results are as follows:
| Category | House |
| --- | --- |
| Sub Junior Boys | Vishwamitra |
| Junior Boys | Vasistha |
| Senior Boys | Vyasa |
| Super Senior Boys | Vishwamitra |
| Junior Girls | Valmiki |
| Senior Girls | Vasishtha |
BOOK LOVERS PROGRAM FOR SCHOOLS – TEACHERS' TRAINING

"Not every reader is a leader, but every leader must be a reader."
– Harry S. Truman
To elevate the spirit, to stimulate the thoughts, to foster the concentration, books are one of the best tools. To instill a taste for reading, to inculcate reading habit right from tender age, CIRS is joining hands with an organization "The Book Lovers Program for Schools".  BLPS is a reading program based on books and storytelling. To start with, to guide our students, BLPS conducted a training program for our English Teachers on 2nd and 3rd April in our Audio Visual Room. Team Work Games, what makes a good story, what makes a good story writing, theory of story writing, method of storytelling and so on were the topics discussed in the training program.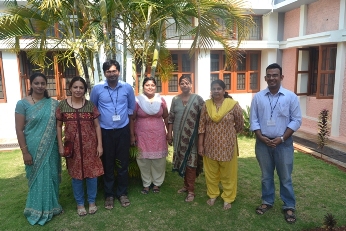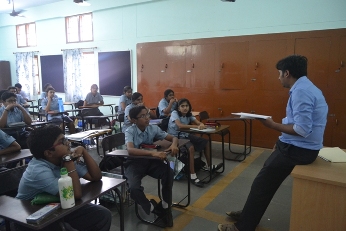 Tamil New Year celebrations started off with a presentation during the morning assembly hours. This was delivered by Aparna and Shrinidhi (Class 12) in both Tamil and English. The evening celebrations started with a melodious note of the Tamil Anthem "Tamizh Thai Vazhthu", in which one praises the Land of Tamil Nadu. Mr Diwakar translated the Tamil Anthem to the audience by explaining its meaning. This was followed by a Tamil song by the students of Class 7 and 8 which conveyed the message "everything in this world is beautiful".  Few students of classes 5, 6 and 7 performed a skit on the Thirukkural couplets.  The evening celebrations ended with the Chinmaya Aarti.
ORIENTATION PROGRAM FOR THE NEW ACADEMIC YEAR 2015-2016
CIRS has the unique feature of conducting a week long orientation program at the beginning of the new academic year that targets the specific needs of the students.
A. Orientation for Junior School New Students
To make the new students of junior school adjust to the residential school setup, we conducted various fun filled activities like watching movie and cartoons and a wonderful variety show put up by the class 9 students. They also had interactive sessions on ';health and hygiene'; and ';time management.';
Beside this, an informative session on ';norms in dorm';s, ';The CIRS Way'; along with CIRS tour was organised. During this time, we also gave a platform for the new students to put up a talent show, where they exhibited their skills and talents.
These sessions helped them to know CIRS better and also for CIRS to know them better.
B. Orientation for students of Class 9 and 10
As class 9 and 10 are into their crucial year, we started their orientation by an address by our dear Principal explaining them on what it means to be in senior school.
Many sessions were conducted to make the students aware of the Continuous and Comprehensive Evaluation (CCE), knowing ones aptitude and career options with focus on higher education in India and Abroad.
A workshop was also conducted on creativity and intellectual development, ways of knowing, time management, yoga - a way of life and an open forum discussion on 'child labor' and 'wonders of nature'. They also had a fun filled activity like 'paint ball' and 'trekking'.
The orientation program ended with a session on 'being with oneself', where they reflected on their further course of action.

C. Orientation for Class 11 new students
To make the new students of class 11 know each other and their school, CIRS, we had a ice breaking session, tour of CIRS, life in CIRS and a session on 'Knowing the Master: Sw. Chinmayananda'. They had an opportunity to interview our Principal to clarify their doubts and queries and also our Headmistress gave an overview of CIRS from 1996 till date. Sw. Anukoolanandaji conducted a workshop on creativity which was filled with lots of activity. There were also workshops conducted by the Music and Art Department.
Team building games and trekking was enjoyed by all the students.
The orientation program ended with a session on 'being with oneself', where they reflected on their Goal and their Aspiration.
Chess tournament was organized by Kovai Vidyashram on 25th February. 9 of our students participated in the Chess Tournament in the different categories as follows:
Under 17
Utkarsh Gupta, Sidsabeeshan, Gowtham Gupta
Under 13
Mayank, Arjun, Adarsh K, Siddharth A, Nityasree, Sitara
Out of the 250 participants our students got a ranking as per their scores.
In order to provide academic support and initial exposure to French to the new students of different classes, so that they can pick up the basics and catch up with others in the respective classes, a Bridge Couse is conducted every year. The same was started on Wednesday 8/04/ 2015 this academic year. This course is intended to bridge the gap between those who have been studying French for some years and those who have just started. It helps the students who have opted for a language which they did not study in their previous school.
The following students have enrolled for the bridge course of the academic year 2015 – 16.
Class 6 - Shyamalan, Anirudh, Tipireni, Yuvan, Meet, Jaswenth Vishnu, Sujay, Jash, Hari, Prashil
VISHU AND BENGALI NEW YEAR CELEBRATIONS
'Vishu Kani' was arranged in dorms with auspicious items like idol of Lord Vishnu, mirror, fruits, vegetables etc, decorated with 'Kanikonna' ( a golden yellow flower associated with Sri Krishna) Children were shown 'Vishu Kani' in the early morning with eyes closed guided by the RHPs and RHMs.
During the assembly, the Spiritual Department had put up a presentation on the significance of Vishu and how it is celebrated in Kerala. The students dressed up in their traditional dress for a special lunch, a feast which had food items consisting of roughly equal proportions of salty, sweet, sour and bitter items.
The Vishu celebrations came to an end with the splendid performance of "Narayaneeyam"a dance drama on the stories of Lord Krishna performed during the evening special aarti. It comprised of Udhavadoothyam, Santhanagopalam and Kuchelavritham Dasakams in a traditional way.
As part of the Bengali New year celebrations a presentation depicting interesting facts and information on West Bengal compiled by Ms Gita Rani was shown during the evening aarti. It included information regarding the rich culture, food habits, touristic places of interest, etc.  Our teachers (hailing from West Bengal) rendered a beautiful Bengali song titled "Esho hey baisakh" welcoming the first month "Baisakh" of the New Year.
COMPETITIONS AROUND MAHATMA GANDHI
As a build-up to the unveiling of Mahatma Gandhi's bronze statue at Britain's Parliament Square in London on 14 March 2015, British Council India in association with the British High Commission organised various online competitions for school students to participate and be a part of this historic event. CIRS submitted entries for all the four categories of this competition. The submission date was 7th March 2015. The results are not yet released. The topics were as follows:
Category 1 - For Classes 1-5-Paintings on the Life of Mahatma Gandhi
Category 2 - For Classes6-8‐Collage on Indian Independence and Mahatma Gandhi
Category 3 - For Classes 9‐12 Video message on the theme "What message would Gandhiji give to our country if he was alive today?"
Category 4 - Showcasing past events of the school(via a ten slide presentation in PowerPoint)
5th INTERNATIONAL ENGLISH OLYMPIAD
Science Olympiad Foundation conducted the 5th International English Olympiad on 29th January 2015. The results have been announced and the prizes are expected to be received by the end of April. We are happy to announce that the following students have secured State Ranks.
Vikram Ragavendra Rao of Class 11 secured 13th position in State level and 107th position in International level.
Aysush Anand of Class 12 secured 5th rank in State level and 46th position in International level.
Taruna Haresh Jagtiani of Class 12 secured 18th rank in State level and 118th position in International level.
Shyam Mohan of Class 12 secured 1st rank in State level and 16th position in International level. He will be awarded a Gold Medal, Rs 5000 cash prize, gifts worth Rs 1000 and a Merit Certificate.

Vikram, Taruna and Ayush will be awarded a medal of Excellence, gifts worth Rs 1000 and a Participation Certificate.
Merit certificates were awarded to children of (Class V - IX, XI CBSE - SCIENCE, XI CBSE - MGMT and IB I Year) for their outstanding academic performance in II Term Examinations 2014 - 2015.
Class

Name

Rank

5

Malini Kalliyath

1

Rishitha Kota

2

Shivansh Gogia

3

6

Surtarangini Devi

1

Nihar Mukund

2

S Neha

3

7

L R Rithu

1

Parekh Dhruvi Hireh

2

Shristi Sarawgi

3

8

T Abishek

1

Ashwini Sridar Athreya

2

Ishika Manish Agarwal

3

9

Krishna Priya Mohan

1

Vasika V G

2

Deekshita M

3

11 Sc

Mudit Sameer Bhartia

1

Venkata Supreeth Kesapragada

2

Yashvi Gupta

3

11 Mgmt

Vedant Rungta

1

Kaushik Saboo

2

Videet Lohariwal

3

IB I Yr

Ayush Ranjan

1

Lakshmi Priya R

2

Aditya Kanti Datta

3
At CIRS the new Academic Year commences with the Gayatri Havan performed at the quadrangle of the Mathura Block. On 6th of April the students of CIRS participated in the Gayatri Havan seeking the blessings of the Lord before beginning the new session.
Gayatri Havan is a unique way of offering prayers to Surya Bhagwan, the Lord of the Brilliance of the Intellect.
On the 4th and 5th April, CIRS gates opened to the new aspirant population. The gates of CIRS saw the expectant faces of the 'students to be' and the anxiety writ faces of the prospective parents of CIRS. The usually quiet campus was abuzz with activity as the Staff and Administration of CIRS ushered in the keen guests with warmth and love. A host of activities were organised to make the parents and the new students feel comfortable and prepared to step into their new roles and lives at CIRS.
Ice breaking sessions for the parents and the students saw a lot of interchange and interaction happening at all levels. Before long all the anxiety and questions were laid to rest. The special sessions for the students and parents of CBSE 11th grade and IB also helped quell a lot of doubts. The various discussion forums chaired by various teachers for parents also brought to rest the tumult in the hearts of the parents who felt at the end of the 2 days that their ward was in 'safe hands'. A special CVP session by Swami Anukoolananda Saraswathi and the address of the Principal to the new students and parent fraternity weaved and strengthened the bond and laid the foundation for a happy rapport in the days to come. The Ice thawed and bridges of friendship were built.
Click here to view the gallery.
Everyone at CIRS celebrated Hanuman Jayanti in full spirit and devotion. On 4th April morning, we had a special pooja at MPH. The next day groups of students from Junior school as well as Senior school chanted Hanuman Chalisa in turns during the afternoon and evening sessions. The chanting of Hanuman Chalisa happened from 3.00 to 6 pm continuously. Each group chanted 7 times thus reaching a total of 54 times. The celebration ended with a splendid bhajan session during the evening aarti.
An adventurous camp was conducted from 30-03-2015 to 03-04-2015 in the school organized by National Adventure Foundation, Tamil Nadu and Puduchery chapter for the entire students of (Classes V to VII)).

The activities included:
1. Sulur Lake for water sports.

2. Adventure Zone
Mechanised Bunjee,  Zorbing, Obstacle Course
Bamboo Walk , River crossing,  Kayaking, Rappelling

3. Flying fox, Snorkeling, Sumo wrestling, Paint Ball.
Click here to view the gallery.
In connection with the Birth Centenary celebrations of Pujya Gurudev, and the golden Jubilee of the Chinmaya Education Movement, we at CIRS wish to pay our obeisance to this great master by spreading his extraordinary vision of holistic education among schools in and around the city of Coimbatore. By conducting the CVP seminar in the schools of Coimbatore.
This project was flagged off on March 26, 2015 in Little Kingdom School, Tirupur. The Prinicpal, Mrs. Shanti Krishnamurthy educated the teachers on the aspect of Integrated Development. Swami Anukoolanadaji introduced the vision program and shed light on imbibing importance of Indian Culture in education. Ms. Sandipa spoke on developing the need for developing patriotism and a Universal Outlook and Rajeshwari very enthusaistically demonstrated the thrill of incorporating these aspects in our lessons. A question-answer session concluded the program. It was very well received and very highly appreciated by the teachers and the members of the Management.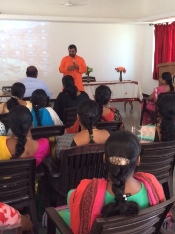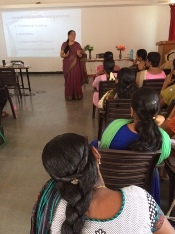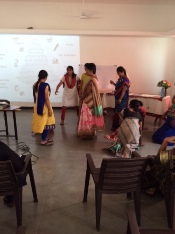 Ram Navami started with a culture talk in the morning. Our students presented it by identifying Shri Rama as an ideal son, husband, warrior, student and a noble enemy.  With this introduction, the ceremony of Lord Rama's birth started at 11 with a show put up by the students of class 9 and 11. The anchors asked a few teachers and students about their views on the ideal qualities on Lord Rama. It was surprising to know that those who answered the questions gave remarkable answers impromptu. After this inspiring session, the students translated the whole Rama JanmaCopai (Story of Rama's birth) into English and they also presented some of the verses in the form of a graceful dance. When the clock struck 12, Lord Rama was born and the celebrations began! The students sang songs that soothed the minds and hearts of the enthusiastic speculators. All offered flowers and sought His blessings. The evening started of with the rhythmic Rama Nama Japa and followed a presentation by Shreyans and Vignesh of Class 10 on the story of the devotional Sabari and Lord Rama. Sejal Bahl  of Class 10 complimented it by writing and reciting her poem on Shri Rama.Then, the viewers experienced the musical display put up by our students and two members of the Yuva Kendra who graced this evening by attending and participating in singing bhajans. Thus, the eventful day ended with a lilting note.
In the last academic year 2014-15, 27 hobbies were offered for all classes except IB students. The duration of each hobby is one hour and the timing is the same for junior school and senior school. On every Wednesday, students will have their hobby classes from 3.20 to 4.20 pm.
Hobby classes were organised with the intent of grooming the multifarious potential and capabilities of each child so that he or she develops into a multi-dimensional personality who is versatile.
According to the class and age of students, different hobbies were offered to cater to their interest and potential.
From three preferences given by each student, one hobby was allotted to them so as to train and guide them in that particular art.
TOTAL NO. OF HOBBIES – 27
CLASSES V & VI
FIRST AID, COMIC & KID'S CRAFT
CLASSES VII & VIII  
ORNAMENTAL CRAFT, YOGA, PAINTING, DANCE, FILM CLUB, CHESS, VOCAL &BAND
CLASSES IX & X  
MATH CLUB, VOCAL, TIE & DYE, FILM CLUB, BIRD WATCHING, CHESS, HINDI POETRY WRITING, MULTIMEDIA & MUN
CLASSES XI & XII 
HEALTH CLUB, DRAMATICS, LEGAL AWARENESS, MATH CLUB, TABLA, MUN, ELECTRONICS
Apart from the hobby classes, there were music classes in Veena, Violin, Flute and Guitar conducted by Shivanjali Music Group for classes V to VIII.
Most of the hobbies had two teachers–in-charge so as to maintain an unhindered progress of the hobbies and to ensure that at least one teacher is available during the occasional absence of the other teacher.
As and when needed, experts and trainers were invited for more exposure and benefit of the students.
A number of new hobbies are expected to be introduced in the forthcoming academic year as many teachers have volunteered to do so. The hobby clubs flourish with the support and encouragement of the management and the principal of the school.
Every year, the 8th of March is celebrated as International Women's Day. On this day, we celebrate the success of women in different fields. This was brought out beautifully by the students of Balmandir( Grade 1 to 4).
The students rendered a beautiful poem appreciating the contribution made by the women in our lives. A power point presentation showcased and saluted successful women from different fields like medicine, science and technology, writers, social workers. The students expressed their respect and gratitude to the lady teachers and staff of CIRS including the garden Akkas and Dorm assistants.  
MOVING AHEAD WITH PRAYERS AND BLESSINGS OF GURUJI
The students of Grade 10 and 12 began their exams last week. Amidst all the hustle and bustle of exams, these students had the privilege of meeting Swami Tejomayanandaji, more lovingly known as "Guruji" who had come on a short visit to the ashram. His words inspired the audience and his smiles showered blessing onto them.
The session ended with Guruji singing "Ek baar, baar baar, hari naam japo re" giving the students focus and energy to face the upcoming exams.
COIMBATORE DISTRICT LEVEL CHESS TOURNAMENT
Coimbatore District Level Chess tournament was held at Amrita Vidyalaya on 7th and 8th March. Out of the 500 students who participated in this event, 12 students were from CIRS.  The event was held in Swiss format (3 rounds conducted on Saturday and 3 rounds conducted on Sunday).
In the under 17 category, Aryaman Parekh scored 5 out of 6 points and stood fourth among the participants. Among the other participants of CIRS Arjun, Adarsh and Harsh scored 4 out 0f 6 points.
COIMBATORE INTER CHINMAYA KNOCKOUT TOURNAMENT
The Coimbatore Inter Chinmaya Knockout Tournament was held at CIRS on Sunday, 1st March 2015.  A total of 3 teams (Chinmaya Vidyalaya - Vadavalli, Chinmaya Matriculation, CIRS) consisting of 250 students participated in this tournament. The tournament included Basketball and Football. CIRS won the overall championship winning all categories namely – Sub Junior Boys, Sub Junior Girls, Junior Boys, Junior Girls both in Football as well as Basketball.
The Science Week was celebrated between 23rd to 28th February 2015. The week began with a wonderful and edifying presentation on Ayurveda by Dr. Ram Manoharji, Director of Research, Arya Vaidya Pharmacy. He provided an insight into the History of Ayurveda, importance of medicinal plants and also the techniques of surgeries performed in ancient India, During the Junior Science Quiz, one of the rounds was on Ayurveda.
Other activities, during the science week were, a visit to the Regional Science Centre, Coimbatore for class 8 students, Bridge construction for class 7, chemistry investigatory activity on 'Know your Cosmetics' for class 6 and 'Fantastic Contraption', a science based video game contest for class 5.
The Junior Science Quiz was held for class 7 and 8 with many activity based rounds. The Valmiki house came out as winners.
During the National Science Day, the department released the first issue of the Science Magazine 'SCOPE'.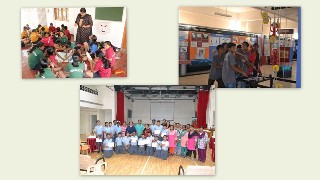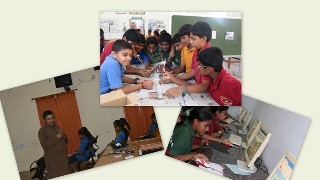 The Fine Art Week was observed from 16.02.2015 – 21.02.2015. From 16.02.2015 to 18.02.2015, an art exhibition was put up by the students which included a number of paintings, pottery, tie & dye pieces and origami.  All these exhibits were prepared by the students during their art classes.
On 17.02.2015, the students of class VIII were exposed to Origami, Finger Puppet and Pottery.  They were shown examples and were taught the basics of the above.  The objective was to develop skills to handle various art works. 
On 19.02.2015, an assembly presentation was given by Rohit and Shreya of class VIII.  They explained Indian Folk Art forms namely Madhubani and Worli  painting  through a talk and power point presentation.
On 20.02.2015, The students of IB I year, Lakshmi Priya, Anagha, Jhanvi  and Anuja gave a presentation on Anamorphosis, a technique used on a  surface to create 3 dimensional illusions.  They explained the  works done by artists like Nagai Hydesuki and Julian Beever using this technique. 
Overall, the students had an enriching experience during the art week.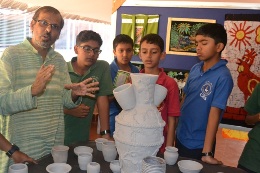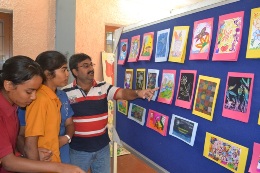 CIRS CELEBRATES SWAMI SWAROOPANANDAJI'S BIRTHDAY WITH JOY
15th February, 2015 was a different day to begin for both CIRS staff and children. It was celebrated in CIRS with a lot of solemnity and ceremony. The MPH was filled with festivity. The students of CIRS were extremely excited and expressed their feelings through several birthday cards that were presented to him during the evening Aarti. Some students compiled video clippings of words of love that few students expressed to Swamiji in the form of a video presentation. The special guest's of the evening were Swamiji's beloved family members. The entire MPH was in a rhapsody when few students conducted the special event of the evening – The Quiz! The quiz was about Swamiji's life and the students were highly enthusiastic to test their knowledge. The most enlightening and awaited event was Swami Swaroopanandaji's 'Interview' which was taken by a few students about his life and experiences. He told us a little about his life and a lot about how to 'add not years to your life but life to your years'.  He reminisced his moments with Gurudev too. His birthday was indeed celebrated and enjoyed by everyone and the evening was filled with joy.
To give more attention for bringing up their professional talent in their Vocal, Tabla and Dance we the Music department teachers have started Morning special classes for the selected talented children those who are doing well in particular areas, Hindustani, Carnatic Vocal and Tabla will have classes twice in a week and dance will be every day with the different groups, the timing of the classes as follows, morning from 5:30 am to 6:30 am.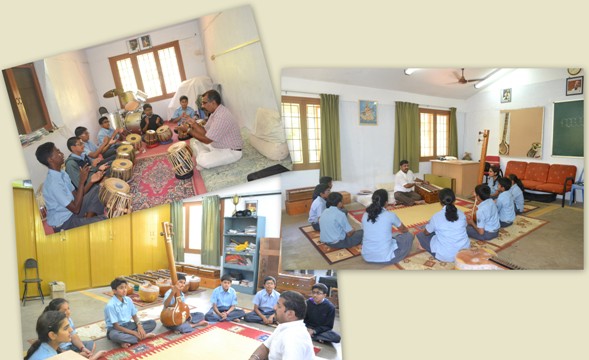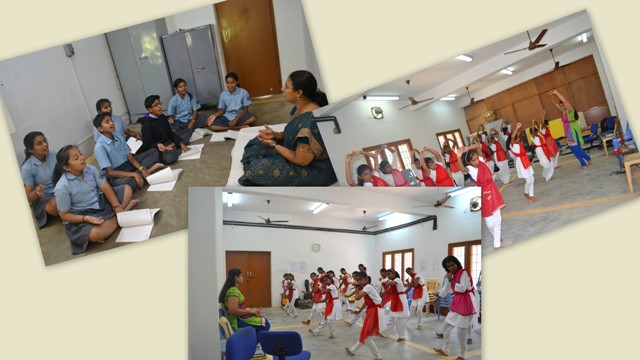 FOLLOWING THE FOOTSTEPS OF GREAT POETS
Based on "THINK BIG, NOW IS A TIME" during winter vacation our junior school students were given a task on creating a Masterpiece in any of the skills they have. Mukesh of Class 5 A wrote a poem as part of the assignment which was published in THE HINDU on 6th March.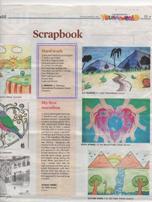 Holi celebrations at CIRS span across 2 days – Holika Dahan (5th March 2015) and Holi Dhuleti (6th March 2015).
Holika Dahan or the lighting of bonfire takes place on the eve of Holi. The programme started with bhajans and pooja to Lord Narayana. This was followed by a skit on the significance of Holika Dahan. Swamiji narrated the story of Prahlad and Holika from 'The Baghavat' which symbolizes victory of good over evil. The message conveyed through the stories was that those who are devoted to Lord cannot be destroyed by force and also would have his evils removed. The real devotee possesses 'the strength of faith'. Pooja was done to invoke Lord Agni. It was followed by Holika Dahan the - burning of the Holika - which signifies the destruction of evil and the triumph of good as symbolized by Prahlad. The programme concluded with bhajans and pouring water around the Holika Dahan thus getting purified by washing our negatives.
On the following day Swami Anukoolanandaji explained the importance of Holi and its association with various legends emphasizing the greatness of our culture. This was followed by a pooja and arati. The 11th grade students conducted a quiz based on the story of Holika. Children enjoyed playing with holi powder which is considered as Prasad from one of the biggest yaga called 'Soma Yaga'.
Click here to view the gallery.
Spell Bee Casts Its Spell Again!!!
The English Department of CIRS conducted the Spell Bee Competition 2014 with the objective of promoting students knowledge of proper word usage, encouraging students to strive for excellence in spelling skills and providing an opportunity for students to meet and compete with their peers in an atmosphere of fun and friendship.
CIRS's brightest young spellers gathered in the MPH for a spelling showdown! The competition was conducted on 4th March 2015 for Juniors under two categories namely - Classes 5 and 6, Classes 7 and 8. The competitors were selected by their English teachers through a series of written tests and oral "spell-offs" conducted during the previous few weeks.
The following contestants were declared as winners in the respective categories.

Name of Student

Class

Position

Chintada Seshank Bharadwaj
Surtaringini Devi
Mayank Chowdhary

VI B
VI B
VI A

1
2
3

Name of Student

Class

Position

Isgika Agarwal
Nandini Singhania
Abishek T

VIII D
VIII C
VIII B

1
2
3
5 students of CIRS were felicitated by the school for their long, unwavering faith and trust towards the school. Each of these students received a memento from Swami Anukoolanandaji as a token of appreciation during the morning assembly. These selected students have completed 8 years of fruitful stay at CIRS starting from Class 5 to Class 12.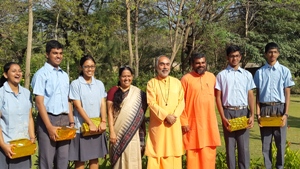 Gurudev Paduka Pooja was performed by the students of XII CBSE and X praying for their success in their final examinations. It was performed under the guidance of Swami Anukoolananda Saraswathi. It is CIRS tradition that Gurudev Paduka Pooja is performed before all the major examinations seeking His blessings.
On 25th Februrary students of classes 5, 6 and 7 had a Fancy Dress Competition. They were ready with colourful and appropriate costumes and dialogues. Children took up various roles from politician to soldier to cartoon character to witches to fairy to broomstick to policeman to butterfly to Lord Krishna to Lord Ganesha to Spiderman to actor and to what not. We had more than 30 participants performing to their best abilities. All were appreciated by the audience. The first 6 positions were bagged by Khushi Amruth, Preeti, Sathvika, Nandita, Surtaringini and Sitara.
On 24th of February, at 6:00 pm, the students of IB first year took part in a face to faith videoconference session with Loyla School in Chicago. The topics of discussion were culture, traditions, religions and values imbibed by them in our communities.
It was a one-hour session within which many areas of the topics were covered through the narration of personal experience. The students learnt about family systems and how various communities live in harmony.
The students started off with the notion that their communities were quiet different from each other's, but throughout the discussion they learnt not only a lot about their communities but also the surprising similarities in them. It was a very interactive session where everyone learnt about the values that are instilled by the various practices in our communities.
CIRS CELEBRATES MAHASHIVARATHRI
Shivarathri was celebrated on the 17th of February at CIRS in full spirirt and devotion. The day started with 'Mritunjaya Havan', where children chanted and performed the havan under the guidance of purohits. Some of the students also observed fast as part of the celebrations for the whole day.

In the evening children were taken classwise to the Shiva temple at CRDC to perform 'Shiva Abhisheka'. Also Arati 'Rachopachara' was done to Lord Shiva by singing bhajans. This was then followed by a special evening arathi with spectacular performances of skits, dances and bhajans. Swami Swaroopanandaji graced the occasion and addressed the students.
From 11.00 pm to 12.00 midnight children chanted shlokhas on Lord Siva, Mantra japa, sang bhajans and offered 'Abhishek' to Lord Shiva. The day ended with Maha-arati.
Click here to view the gallery.
On the 9th of February, the Amrita School of Communication addressed the students of 11th grade with the aim of familiarizing them to the nuances of Media Literacy. The workshop was conducted by Mrs. Chitra and Mr. Jaikrishnan,  experienced faculty of ASCOM. The talk helped students to understand technical terms like 'snacking' , ' metrics ' and 'analytics' amongst many others.  The caution required while using social media was highlighted as were the various  job openings in this sector. The session was interactive and lots of examples and video's were used to convey the information. The Headmistress gave the faculty members a token of appreciation for the informative session conducted by them.
Class 8C was declared as the Best Class for the Academic Year 2014-2015. The award was based on the classroom decoration, blackboard arrangement, academic performance, overall discipline and maintenance of desk and cupboards which included number of Subhashi badge holders in a class.
AN INSIGHT INTO THE GREAT MASTER'S LIFE
As a tribute to the selfless work of the great spiritual master, students and staff of CIRS were taken to the screening of the revolutionary movie "On a Quest" at KG theatre, Coimbatore. The movie unfolded the transformation of young Balan to a universally renowned spiritual master.
The students of class 9 & 11 had a workshop in Electronics. This workshop was conducted by Mr.
Murugesh, a parent of our school. Earlier this year, he had conducted a similar workshop for Class 8 students.

Class 9 had the workshop on Basic of Electricity and Magnetism. They used a Kit to construct circuits, test them out and were asked to share their learning after building the circuit based on what they observed.

Class 11 had the workshop on Gyrobots. The students were asked to observe and discuss the motion of a Gyroscope. After gaining some understanding of the Principle of Gyroscope, they started constructing Gyrobots. These are Robots with a motorized Gyroscope inside. These
Gyrobots have Real World Application in many fields some of which are in Aircraft Navigation.

All the students immensely enjoyed this Hands-On workshop.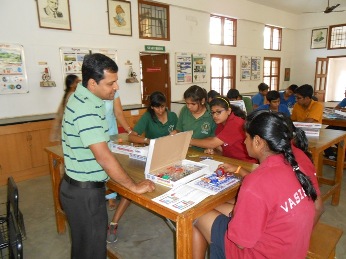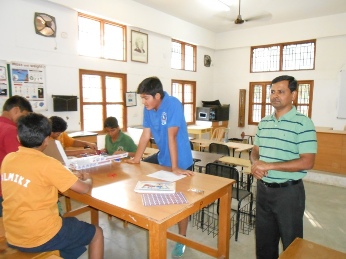 KOVAI QUOTIENT QUIZ
On 7/2/15, a team comprising of Sanjay Srinivasan (VIII), Sri Vaibhav(V) and Pragadeeshwaran (IX) took part in the KQ quiz held in PSG college of Arts and Science. Our team secured 12 ½ out of 25 in the preliminary round. Though our team did not advance to the finals, our participants got ready for an exclusive quiz on Kovai at a short notice. The questions that were asked in this event will be shared in the subsequent sessions of the quiz club.
TIMES QUIZ

On 5/2/15, three teams from CIRS took part in "Times Quiz 2015" which was held in GD Auditorium.
Team 1 comprised of Jayanth and Aditya Nair of std XI. Team 2 comprised of Sanjay Srinivasan and Sudarshan E of std VIII. Team 3 comprised of Pragadeeshwaran and Koushik Karan of std IX.
Out of 300 teams ( 600 participants), six teams were chosen to take part in the finals. In the preliminary round, our team comprising of Jayanth and Aditya Nair got selected to play in the finals. In the finals, we secured 5th position. Coimbatore edition of Times of India dated 6/2/15 carried a detailed coverage of the event with a photograph of all the finalists including the CIRS team.
MPH RE-OPENED AFTER RENOVATION
To mark the re-opening of the newly renovated Gokul (MPH) a Ganapathi Havan was conducted on 21st January 2015 in the morning. This was followed by the Guru Paduka Puja.
To stimulate critical thinking skills an OUT OF BOX THINKING QUIZ was organised for grade 5 & 6 on the 19th Feb 2015 at CIRS. The first written round was conducted for all the students. Then 24 children selected out of it went for a second round of written round. 14 children were selected and a elimination round was conducted and four children were selected for the final rounds. The final round was conducted for these four children on the 19th Feb in the Multi purpose hall with the junior school as audience.
Nihar Mukund (6 A) - 1st place
Rachit Singani (6A)  - 2nd Place
Archit Gupta (6B)     - 3rd Place
Stuti Murarka  (6A)   - 4th place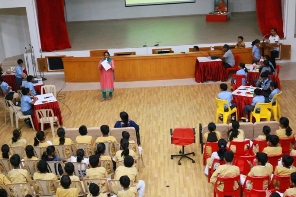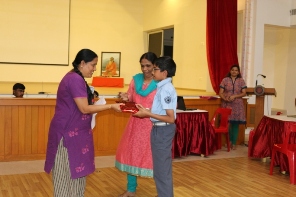 The XIX Annual Khel Mela Athletic Meet 2014-2015 began on 3rd February 2014 with the arrival of the chief guest, Col LB Gairola and the prayer song led by Kavya Kumar of Class X. A spectacular display of March past was put up by the students of CIRS for the chief guest and the parents as they were led by the student dean Aditya Kanti Datta. The meet was declared open by the chief guest after the oath taken by the students led by the junior sports secretary Alark Dhaval Thakkar and the opening speech by senior secretary S. Sanjana.

After this, the students performed a drill on patriotism and secularism in India This was followed by the track and field events for the sporting stalwarts of CIRS who participated with true sportsmanship.

After lunch, it was time for the parents to show their sportsmanship and worth on the field.

The 1st day ended with Swami Swaroopanandaji addressing the parents and the junior school students performing a wave board drill.

The Day 2 started with the Khel Mela song performed by the parents. It was followed by the Yoga drill, the house drills and the Saree drill.

Sports Secretaries led the students of CIRS and the Principal and the Headmistress led the contingent of teachers for the closing March past.

The Khel Mela ended with the prize distribution ceremony where Vishwamitra house emerged as the overall sports champions.

The meet was declared close by Swami Swaroopanandaji after the flag retreating ceremony done by the junior council and the NCC cadets and the closing speech by junior secretary Rithvika R. Murugaiyan.
Click here to view the gallery.
HOLIDAY ASSIGNMENT
This year, our CIRS theme was to THINK BIG, NOW IS A TIME. Based on this theme, during winter vacation our junior school students were given three tasks-
Create a Masterpiece in any of the skills that they have.
To do something (or learn something) for the first time which they never did before which will make them grow and break their barriers from within.
Interview one person who according to them thought BIG and DID BIG.
We were extremely delighted to see that from Painting, drawing, sketching, dancing, singing, writing poem, writing novel to cooking to photography to  undertaking Adventurous activities to learning new skills and much more was done by our students under the first and the second category. They also interviewed their family members to outside personalities like IAS officers to politicians to artists to doctors to scientist for their third task.
The Thyagaraja Aradhana was celebrated on January 28th at the multipurpose hall. The performance was done during the common arati time. Around 35 to 40 children (both juniors and seniors) participated in this program. Thyagaraja Aradhana is celebrated to mark the birthday of the Saint Thyagaraja, who is considered to be the father of Carnatic Music. The famous keerthana "BANDURITHI KOLU" was presented by Kaavya Kumar as a solo performance, which was mind blowing and the first Pancharathna keerw thana "JAGADHANANDHA KARAKA" was rendered in a beautiful manner. Swami Anukoolanandaji and Mr. Ganesh accompanied the children in Mridangam and Kanjira. Our hobby teachers from Shivanjali, Mr. Ragunathan and Mr. Devasenapathy accompanied the children in flute and violin respectively.
GAYATHRI HAVAN AT CHINMAYA GARDENS
On 18th of January students of CIRS got an opportunity to participate in the "Akhand" (without any break) Gayatri Havan performed at the Chinmaya Gardens Ashram for about 6 hours.
Gayatri Havan is a unique way of offering prayers to Surya Bhagwan, the Lord of the .Brilliance of the Intellect
On 17th January 2015, more than 60 students of junior school participated in the Creative Art Competition. Very enthusiastically, everyone assembled in the quadrangle with their art material. Each of these wonderful children was busy for more than an hour in painting, sketching, quilling, origami etc.  It was a joy to see the creative work which came up at the end.
The following students were awarded prizes.
Class 5

Class 6

Class 7

Class 8

Arnav
Ashmita
Avanthikaa
Smitha
Adhav Ram
Maanasa
Neha
Tripti A
Stuti
Surtarangini

Sakthi
Aryan B
S.K. Shrinitha

Karan Nair
Aaryan A
Abhipsha M
A math workshop was conducted for teachers handling classes 6 to 10. The workshop was held on 9th January 2015 at "The Grand Regent" Hotel Coimbatore.  Mr. Prakash and Mrs. Kamatchi Priya from the Mathematics Department attended the workshop from our school.
Mr. A.T.B.Bose was the resource person for the workshop. The workshop was based on  various Chapters like Irrational numbers, Area circle, Similarity, Pythagoras theorem, Pi finder, Algebraic expression, Polynomial, Quadrilateral types and Colour cubes. The main focus of this workshop was to make students do lot of hands on activities and also to make the classes more nteresting.  On the whole the workshop was very helpful and interesting.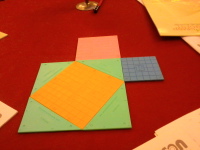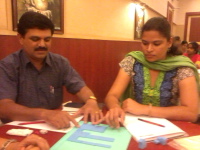 Martyr's day was observed on 30th January 2015 in CIRS. During the morning assembly Nihar Hegde of Std X delivered a short speech on the greatness of Mahatma Gandhi. In the course of his speech, he highlighted the noble ideals of Gandhiji and the path he chose to achieve those ideals. He also stressed the need to enhance the on-going cleanliness drive which Gandhiji insisted long ago. In the end, every one observed a minute silence as a mark of respect to a great soul whose greatness is widely appreciated by people across the globe.
66th Republic Day was celebrated @ CIRS by installing a fierce spirit of patriotism and civic consciousness.  Prior to the Flag Hoisting, three anchors namely Aarshi of X, Mahindar Udasi  of XI and Krithick of Std VIII briefed the gathering on the significance of the day.  The anchors shared the views of the students of std V and VI on what India is today and what India should be in future. This was followed by the sharing of the contents of the Purna Swaraj resolution of the Indian National Congress in 1929.  In the end,  two poems written by Saravana Raja of Std VII and Anirudh SK of std VII were read out.
Smt. Jaya Ravishankar, our Headmistress unfurled the National Flag.  She also accepted the guard of honour from the marching participants of the four houses, CIRS band and NCC cadets.
Smt. Rajeshwari addressed the gathering.  In her speech, she expressed the need to develop a sense of collective belonging. She also emphasised the need for goal –setting which can take the nation to greater heights. 
Swami Anukoolandaji expressed  the need to be contributing citizens by being nation-oriented and utterly unselfish.  Swamiji urged the present generation to come out of comfort zones and contribute for the process of nation building.
Tiny tots of Balmandir came with a power-packed performance on the history of National Flag of India.  Each participant appeared with a Flag that was evolved in different periods of the freedom movement.  Tracing the evolution of the flag from Charka to Chakra was vividly brought out.
Members of the choir sang two patriotic songs. Music and melody added vibrancy to the occasion.  Smt.Jaya Ravishankar, our Headmistress made a special reference on the brisk and majestic march past of the four houses. On the whole, the Republic Day celebrations reflected the truest spirit of the day in every possible way.
Click
here
to view the gallery.
On 21/1/15, Social Science quiz for Juniors was held at the amphitheatre  between 6 to 7 PM.  There were 5 rounds in the event.  The quiz was designed in such a way that the students develop a sense of pride on the greatness of India in terms of its cultural and geographical diversities.  At the same time, there were questions which were aimed at imparting universal outlook.  It was more a battle of intelligence than of nerves.  After a photo-finish at the end of 4 rounds, the fifth round decided the fortunes of the winning side.  Valmiki house emerged victorious.  Vyasa secured second position.  Vishwamitra finished third in the event while Vasishtha house finished 4th in the race.   
It was a keenly fought contest.  The best part of the quiz was the ability demonstrated by the participants whenever they were challenged with a question which was beyond the printed substance in their prescribed text books. The audience too chipped in by answering the questions in a round which was exclusively meant for them.  Those who gave the correct answers were given a pen.  Swami Anukoolananda graced the occasion by his presence.  Jaya Madam, our headmistress gave away the prizes to the winners.  She also shared her observations on the manner in which the event was organised.  On the whole, the quiz provided a rewarding experience to the learners.
The celebration of pongal started the day before by decorating 'Pongal Pots'. On the day of pongal Swami Anukoolanandaji blessed the gatherings. It was a well planned programme of making pongal dividing the children into groups guided by teacher's thus making sweet pongal and salt pongal. It was a fun filled activity and children enjoyed very much. The session ended by offering pooja to Sun God.
That day afternoon all students had as special games session. All the students played traditional games like Gilli danda, Pey Pandhu, Pambaram( Spinning top), Blind fold game, slow cycle race, Kambu Thalli(Ancient Hockey), Undigol( Catapult), Paandi(Hopping), Ailesa(Tug of war), Sada Kudu( Kabbadi).  All the students including the teacher's enjoyed the traditional games.
The same day during aarthi a special programme was organized by the staff and students with the guidance of Swami Anukoolanadaji. Songs from different languages were sung depicting the festive mood of Pongal. Mr. Diwakar explained about the importance of the festival and an energetic dance was performed by class 8 students. Finally the groups who made the best sweet and salt pongal received prizes from Madam Principal and Madam Headmistress.
The next day evening at ashram "Mattu Pongal" was celebrated. All the junior school students along with the class teachers joined the celebration. Swamij addressed the students, explaining how cow was worshipped in olden days and its significance.
On January 12th CIRS celebrated Vivekananda Jayanti with spiritual fervor reliving the moments of this great spiritual master. The 10th grade presented a glorious tribute to Swami Vivekananda and his life in the form of a dramatic presentation. Master Uday Gosain's spectacular performance as Swami Vivekananda was applauded by the audience wherein the grace and spirit of Swami Vivekananda was brought forth through the role gloriously. The narrators and the actors put in their full potential as they choreographed the scenes in the quadrangle lawns of Mathura block – a new venue. A special mention must be made of the coordinators who did a stupendous job – Utkarsh, Yash, Dipti, Apeksha G and Anant Deorah. The program was conceived by Mrs Roopa under the auspices of Swami Anukoolanandaji.
Hindu Young World Quiz was conducted on January 7th, 2015 in Coimbatore. The quiz master was the Hindu's official quiz master VV Ramanan.
Out of 170 teams, 6 teams got qualified to play in the finals. In the preliminary, we team comprising of Sri Vaibhav and Vineeth lost the race by just 2 marks. They scored 12 out of 25. In the audience round, both of them got prizes.

Vineeth identified a musical instrument that was played in an audio clipping while Sri Vaibhav answered a question based on Koala's staple diet. Hartith and Suryan remained enthusiastic throughout the session.
E.Sudarsan and Mayank answered a question each in the audience round on one-humped camel and got a prize. Anirudh PK and Vedant Kedia answered questions on the capital of Dasarath maharaj's kingdom.
It was really heartening to answer questions on Hindu mythology such as wife of Bharatha (Mandavi), commander in chief of Pandava's army and Speciality of the name Lambodara made us understand the fact that the spiritual inputs that the students receive @ CIRS comes handy in quizzing too.
The ambience in the quadrangle was laden with divine fervor and religious passion on the Samadhi Day of Tapovanji Maharaj which fell on 9 January 2014. All the four corners of quadrangle echoed with lively songs and stotrams which were rendered in a tone of ecstasy and joy. The auspicious function began by watching the only video that exists of Tapovan Maharaj. The video was shot on the 25th anniversary of the Divine Life Society, a spiritual organization begun by Swami Shivanandaji Maharaj, who initiated our Gurudev into Sanyas. The whole programme was led by Swami Swaroopanandaji with the pious performance of a pooja. Swamiji also narrated quite a number of very interesting and inspiring incidents from the ascetic and glorious life of Tapovanji, who is a great enlightened master sans pareil. The stories were enchanting and enticing, and the students as well the teachers were spell bound and felt exalted by these highly animated narratives. The evening ended with the singing of the arati of Swami Tapovan Maharaj composed by Swami Bodhatmananda. On the whole, it filled the heart of everyone gathered there with holy and sacred feelings and sentiments.
TRINITY- WESTERN MUSIC EXAM 2014
The Trinity College of London conducted the western music exam during the months of November and December 2014.  A set of 31 children from our school participated in various exams like theory exam (written), vocal exam (singing), and guitar exam (instrumental). The children were taken to the Karunya University for the Theory Exam on 8th November 2014. Among the 10 children who participated, 2 children got merit and 1 child got distinction. The children appeared at the Trinity Exam Centre in the city for the Guitar Exam on 14th November 2014. Amongst the 15 participants from our school, 2 children got merit and 1 child got distinction. The Vocal Exam was conducted at the Karunya University on 1st December 2014. Among the 6 children who participated, 2 children got merit and 1 got distinction.  All the winners shall be awarded with certificates. The winners are as follows:
Theory
Aditya Kumar (Class VII) - Grade 1, Passed with merit.
Tarun Rajkumar (Class VII) - Grade 2, Passed with merit.
Roshan Kundoor Menon (Class X) - Grade 2, Passed with distinction.
Vocals
Divina (Class VII) - Grade 1, Passed with distinction.
Pranathy (Class VIII) - Grade 3, Passed with merit.
Aishwarya.S (Class VII) - Grade 3, Passed with merit.
Guitar
Pulkit Choudary (Class IX) - Grade 3, Passed with merit.
Jairaj Kulkarni (Class X) - Grade 3, Passed with distinction.
Shreyans (Class IX) - Grade 5, Passed with merit.
As a part of ISA project, ten of our students from class 7, got an opportunity to visit a NGO named Siruthuli organization on 8-01-15. The students interacted with Mr. Mayilsamy, a resource person of the organization. He shared a lot of information including different methods and techniques on water conservation. He also shared the upcoming projects of their NGO, which is to rejuvenate the Noyyal river and the streams connected to it. On the whole, the trip to Siruthuli was informative and made children aware about the availability of water and the need to use it wisely and accordingly.
SAHODAYA INTER-SCHOOL CREATIVE WRITING COMPETITION
The Sahodaya Inter-School Creative Writing competition was held at National Model Senior Secondary School, Coimbatore on 18th October 2014. 
From our school Pranathy C of class 8, Shreya Pooranan of class 8, Sejal Bahl of class 9 and Roshan Menon of class 10 participated in the competition.
Out of 40 schools and 82 participants, Roshan  Menon of class 10  bagged the third position.
Vignana Goshti, a seminar on science, was conducted by the CCMT - Education Cell during the month of December for all the Chinmaya Vidyalaya Science Teachers. It was held at CIRS from 2nd to 6th of December 2014. About 160 Science teachers, from Primary to Senior Secondary school, participated in this event.
The main objective of the seminar was to bring about new dimension to teaching Science in schools. The aim to bring about a research based teaching was the highlight of the program.
The Vignana Goshti was flagged off by our dear Swamini Vimalanandaji and Smt. Ramani Thyagarajan, Administrator of CCMT Education Cell. The Chief Guest was none other than Dr. B.M Hegde, Ex Vice Chancellor of Manipal University.

Many sessions were conducted by eminent resources persons in the field of Education and Science. To name a few, some of the sessions were as follows:
1. New Paradigms in Science by Dr. B M Hegde
2. Research & Project Methodologies in teaching Science by Smt. Sheela Krishnaswami and Dr. Geeta Iyer
3. Science teaching through activities, Science for High and Low achievers by Sri. Surya Kumar
4. Ayurveda and Science by Dr. P Ram Manohar
6. Science in Ancient India by Sri. M Pramod Kumar
One of the most inspiring and insightful session was ';Science and Spirituality'; by Swamini Vimalanandaji.
The seminar also had innovative Ice Breaking session, Quiz on Ayurveda, Fun Games and Camp fire. There was also an Exhibition put up by the various Chinmaya Vidyalaya teachers.
The seminar concluded with a Plan of Action being formulated by each schools and this is to be implemented in their respective school.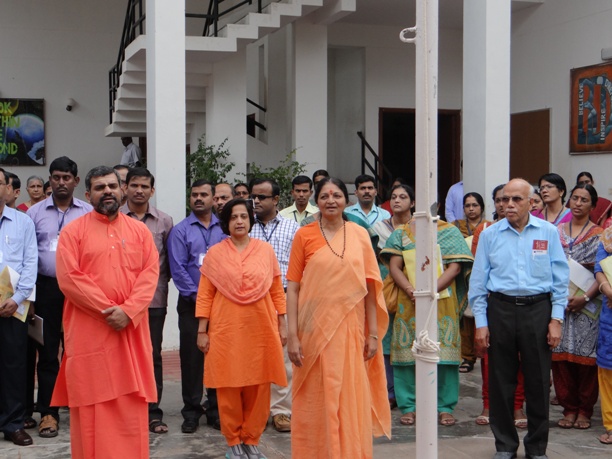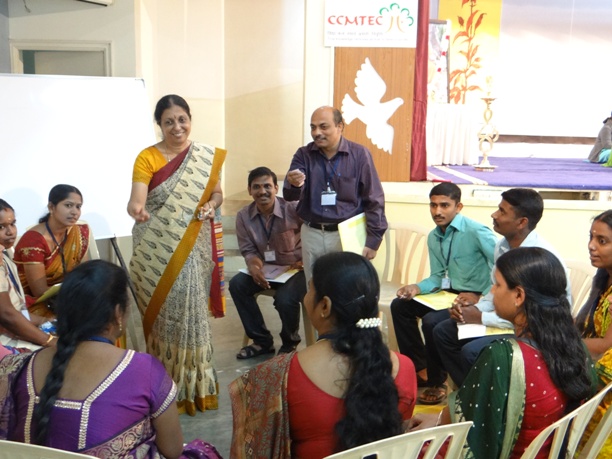 Our school boys participated in the CSBE Cluster Athletic Meet (Boys category) held at Salem on 8th and 9th of December 2014. Amongst the athletes that participated our students displayed an outstanding performance and the winners are as follows:
Manan Bhanderi of Class VII secured the 1st position in Shotput. J. P. Ajayshiv of Class VIII secured the 3rd position in High Jump. Prerak Bhalala of Class IX secured the 1st position in Shotput.
Manan Bhanderi and Prerak Bhalala have been selected for the Nationals which shall be held at Mehsana, Gujarat  from 8th to 12th January.
37TH COIMBATORE SAHODAYA ATHLETIC MEET
Our school participated in the 37TH Sahodaya Athletic Meet 2014-2015 at Nehru stadium on the 27th, 28th and 29th of November. Out of 81 schools and 2200 athletes our school secured the overall 5th position. The results are as follows:
Under 12 (Girls)
Sitara A. Karthikeyan of Class VI won the Gold medal for 60m Hurdles.
Under 14 (Boys)
J. P. Ajayshiv of Class VIII secured the 1st position in 80m Hurdles and 2nd position in High Jump. He was also rewarded for breaking the record in the High Jump event. Manan Bhanderi of Class VII secured the 1st position in Shotput.
Under 14 (Girls)
Dhruvi Patel of Class VIII secured the 2nd position in 100m race and 2nd position in High Jump. Dhruvi and Pranathy of Class VIII, Shreenitha of Class VII and Rithvika of Class IX secured the 2nd position in 4 x 100m relay.
Under 16 (Boys)
Prerak Bhalala of Class IX secured the 1st position in Shotput. He was also rewarded for breaking the record in Shotput.
Under 16 (Girls)
Sagarika A. P. of Class X secured the 1st position in 100m Hurdles and High Jump. She was also rewarded for breaking the record in the High Jump event.
Under 19 (Boys)
Sithsabesan S. of Class XII Science secured the 2nd position in High Jump and 3rd position in Triple Jump. Sanjeev E. of Class XII Science secured the 2nd position in Javelin. Harsh secured the 3rd position in the 150m race.
Under 19 (Girls)
Mahak Bhandari of Class VIII secured the 2nd position in the 400m and 800m race.
Mahak Bhandari of Class VIII, Jothi S., Amrutha S. U. and Deekshita M. of Class X secured the 2nd position in 4 x 100m relay.
Sagarika A. P. of Class X won the Individual Championship.
On 28/11/14 three of our students participated in the Heritage quiz. This heritage quiz was organised by CBSE and was held at Kola Perumal Chetty Vaishnav Sr.Secondary School, Chennai. Three of our students represented our school.
The following students participated in the Heritage Quiz:
1. Jayanth 11th Science
2. Harsh Jain 11th Management
3. Parikshith 11th Management
BRITISH COUNCIL ACKNOWLEDGES CIRS

CIRS has been involved in the Connecting Classrooms programme , a UK government and British Council education initiative for the last two years. During this period CIRS had the opportunity to exchange projects and ideas with various schools such as St. Cadoc's Catholic Primary School (Cardiff), St. Martin's School (Essex), Dogkennel Hill Primary school, East Dulwich, etc. On 4th November 2014 British Council presented a certificate to CIRS for sharing resources and expertise generously, thereby enriching education in the schools participating in the Connecting Classrooms programme.
STREET PLAY ON CONSERVATION OF WATER BY 7TH GRADERS

As part of ISA (International School Award) project, the students of grade 7 put up a street play on the theme 'Conservation of Water'. The students enthusiastically participated with their props and rap songs on save water. They started the play with an energetic dance and beating of drums to attract the attention of the public. The play was in simple Tamil and English, stressing on rain water harvesting, drip irrigation and pollution of water. One student from a nearby college was so inspired by our students that he came, congratulated them and said that he too will take up some initiative to spread the awareness on this theme in his college.
The festival of drama - Masquerade was held in CIRS from 23rd November to 25th November. Masquerade provided a platform for the budding actors to showcase their talents. The young actors, directors, cinematographers with their team took up the entire charge and presented house-wise trailer followed by awe striking plays which held the audience spell bound. At the end of the festival the Best Actor (Anirudh  Ravi  Jithendra- IB 1st year) and Promising Actor ( Dev Kalaria- 6A) were acknowledged.
"B" DIVISION LEAGUE CHAMPIONSHIP
We are happy to announce that  CIRS is the only school team which made it possible to play the prestigious Coimbatore District Football Association Men's "B" Division League Championship 2014-2015.
The entry to this year's championship was credit by last year's team which came as top two teams in Coimbatore District Football Association men's "C" division league championship 2014-2015.  
"B" Division League Matches was certainly a platform to our boys to exhibit their talent against competitive youth opponents. 3 prominent colleges and 5 vintage football club competed with each other.   
The championship helped three of our budding players to book their names for the under-19 probable for Coimbatore District Team.
AYUSH HIMANSHU PANCHAMIYA (CLASS - X)
ROHIT GANAPATI SHENVI GHODE (CLASS - XI)
M. RHOSHEN PRATHYUG (CLASS - X)
                                     Tournament Summary
| | | | | | | |
| --- | --- | --- | --- | --- | --- | --- |
| Match Played | Match Won | Match Draw | Match Loss | Goals Forward | Goal Against | Points |
| 08 | 03 | 02 | 03 | 10 | 09 | 11 |
TRAINING THE PROMISING ATHLETES
The young CIRS athletes are receiving vigorous training from Mr Jayakumar K. A. and T.G. Ajesh (Chief Petty Officer) Indian Navy, Kochi. Our students shall be receiving guidance from these coaches till November 29th 2014. Mr Jayakumar K. A. and T.G. Ajesh have been sent by Commander Ajay Kumar Bahl (Father of Sejal Bahl) with the objective to enhance our students' athletic skills.
SAHODAYA INTERSCHOOL MATH SCIENCE QUIZ

Alark of grade IX and Yash Kalyani of grade X participated in the Sahodaya Interschool Math Science Quiz held at PSG Public Scool on 17.11.2014. 19 teams participated in the quiz out of which our school stood secured the 9th position. Our school did not make it to the semi finals. Overall the quiz was very interesting and informative where the students were exposed to a different view of Science.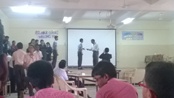 SAHODAYA INTERSCHOOL DANCE COMPETITION 2014
Our School participated in the Sahodaya Interschool Dance competition on 15th November 2014 conducted by Shree Saraswathi Vidhya Mandir School. A few of our students of from grade 9 and 10 participated and won participation certificates.
Fifteen of our students from classes IX and XI took part in the CHEMUN VIII sessions conducted in American International School in Chennai from 14 /11 /14 to 16 / 11 / 14. The students were escorted by Mr. Parthiban KK and Mrs. Padmavathy as MUN advisors.
The team departed at 4.30 am on 13 / 11 /14 to the railway station to take the train bound to Chennai central from where they were picked up by the transport arranged by the AISC. The MUN team had their accommodation in The Hives Guest House which was about four kilometres from AISC.
The topic of the CHEMUN VIII was 'Minority Rights" and our students represented Niger, Madagascar and Oman under different committees.
In CHEMUN VIII, our students were exposed to international issues and also to the method of presenting their views following formal and official protocol and procedure. Our students did really well as they had made a thorough research work for about two weeks.
On the first day, the Consulate General of Korea graced the inaugural ceremony as the chief guest after which the committees moved to their respective venues for the debate.
On the second day, in the evening, AISC had arranged for a social evening at the hotel 'Westin' to entertain the CHEMUN delegates and our students had an enjoyable time.
The students had an enriching and highly rewarding time for three days during the MUN sessions and on the last day on 16/11/14, they took the train at 9.15 pm and returned to CIRS.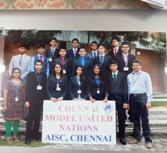 FOLK DANCE COMPETITIONS - JUNIOR SCHOOL
Folk dances are performed for every possible occasion, to celebrate the arrival of seasons, a wedding and festivals. On 18th, November a group folk dance competition was conducted for junior school students to provide a platform to showcase their talents.

A total of seven teams participated in the competition performing different folk dances. The details are as follows:
Kashmiri ki kali ( Class 5 Girls)
Kairali Attam  (Class 6 Girls)
Marathi Mandal (Class 6 Girls)
Tamil Natya Devadhagal (Class 7 Girls)
Rajasthani Chori (Class 7 Girls)
Punjabi Folk (Class 8 Girls)
Gujarathi Folk (Class 8 Girls)
Classes 5 and 6 were grouped as Category I and Classes 7 and 8 were grouped as Category II. From Category I the first position was bagged by the Kairali Attam group dancers and Nanditha (Class 6) received the promising dancer title.
From Category II the first position was bagged by the Gujarthi folk dance group and the second place was bagged by the Punjabi group folk dancers. Srithiga (Class 8) received the promising dancer title.
On Saturday 15th, November five NCC Cadets from our school participated in the NCC day Celebrations at Tamil Nadu Agricultural University, Coimbatore.

Various activities were planned out throughout the day and our students actively participated in some of them. The details are given below:
Bala Venkat - Class IX   - Essay writing( Tamil)
Rohit          - Class VIII - Elocution( English)
Prakhar       - Class VIII - Drawing
Srivatsan    - Class VIII - Drawing
Sanjay        - ClassVIII  - Essay writing( English)
300 students from 17 schools participated out of which Rohit emerged in 2nd position in English Elocution and Prakhar emerged in 1st position in Drawing Competition.  
On the 15th Nov 2014 the Amphi Theatre was abuzz with the students of 10 B performing Julius Caesar by Shakespeare. The stars were 'constant' as the actors played their part and lived their roles. The red mantled Caesar played by Shaurya Gupta , the dynamism of Brutus played by Nihar Hegde ,the enthralling performance of Utkarsh Gupta as Mark Anthony and the charming Calpurnia played by Soumya B was indeed mesmerising. The manipulations of Cassius played by Yash K and Anant D had the audience totally glued to the proceedings. The costumes and the backdrop proved to be assets and added to the charm of Shakespearean theatre. The play was witnessed by the senior school and was directed by Mrs. Roopa Gosain.
37TH SAHODAYA SOCCER TOURNAMENT
Our school participated in the 37th Sahodaya Soccer tournament which was organized by the PSG public School, Coimbatore on November 13th, 2014. 10 schools participated and our school emerged as winners in the Under 16 boys category.
The winners were awarded with a trophy and a certificate.
CIRS staff celebrated Children's day to honor the children and Pandit Jawaharlal Nehru on his birthday. Teachers took the role of students in the activities of the assembly which included prayer, choir, announcements and pledge. In addition to this a quiz with a difference namely, "Fun Campus Quiz" was conducted by Mr. Divakar of the Social Science Department.
The staff of CIRS organized a special cultural show based on the theme "Hijack" in the evening for the students which included songs, fashion show, dances, skits, etc. The evening celebrations ended with the Grand Finale wherein all staff members walked to the stage waving hands, expressing their love and affection towards them.
KATHA – A CREATIVE WRITING WORKSHOP
As part of the CBSE-Katha initiative, a creative writing and translation selected students from grade 7, 8 and 12 participated. The workshop was conducted by the P.S.B.B. Millennium School, Chennai.
100 students from 31 CBSE schools have been participated in this competition.
The students were divided into two different groups Fiction and Poetry. Within two hours of the workshop, they came up with phrases such as 'Under the thundering cloud, the lighthouse stands alone. The fiction group learnt new techniques and vocabulary for writing stories and the poetry group learnt a new form of Japanese poetry called 'HAIKN'. It was a great learning and fulfilled experience for all the students.
MAULANA ABUL KALAM AZAD REMEMBERED ON NATIONAL EDUCATION DAY
November 11th is observed as National Education Day. It marks the birth anniversary of Shri.Maulana Abul Kalam Azad, the first education minister of India in the post independent period. To mark this occasion, Master Ayush Panchamya of std X delivered a speech on the significance of the day in the morning assembly. In his speech, he emphasized the need to strengthen the modern day education for the betterment of the society at large. He also reiterated the fact that the progressive growth of any nation is determined by the educational policy that is widely pursued. His speech ended with a presentation on the expansion of educational network in the remotest parts of the country.
The Language Week celebration was held from 3rd November to 8th November. The celebration started off with a general introduction on the importance and relevance of the languages given by Mr. K.K. Parthiban (HOD – Dept of Languages) during the morning assembly. Quizzes were also conducted on the following days during the morning assembly hours. Three quizzes one each in Hindi, French and Sanskrit were conducted on the second day followed by a quiz in Tamil on the third day.
In addition to the quizzes, classroom activities such as Language games, Crossword puzzles, quizzes and education video show of short stories and songs in Hindi, Sanskrit, French and Tamil (for the refinement the pronunciation and accent) were carried out during the academic hours. A music program by a number of students from across different classes was organized to entertain and enrich the students of both junior and senior schools.
CMC matriculation higher secondary school conducted an inter-school quiz in CMS auditorium on 07/11/14. Two teams from our school took part in the event. Team 1 comprised of Aditya Kanti Datta and Jayanth and team 2 comprised of Kank Fathepuria and Mohan Das.

There were 36 teams out of which our Team 1 got qualified to play in the finals. 6 teams were chosen to play in the finals based on their scores in the Preliminary round, which was a written round.

In the finals, Team 1 finished 5th. They were given tropies and participation certificates. In addition to this, they also got free coupons to visit Kovai Kondattaam water theme park.
The Physical Education Department conducted the Cross Country Race on 3rd November 2014. The results of the first 20 positions are as follows.
Junior Girls
Mahak Bhandari, Sitara A . Karthikeyan, Padmashree P., Ami R., C Pranathy, Dhruvi Vinod Patel, S. Aishwarya, Anjole Donapaty, Khaviyaa S., Harshita Pasari, Shreyah Pooranan, Tanmaiye Makhariya, K.A. Aaslesha, Nandini Haresh Jagtiani,  Prachi Dokania, Kavya G., Navya Khemka, N. Indirani, Palak Jain, N. Jahanavi
Junior Boys
Sidhant Abhijit Rajeshirke, Harsh Anish Shah, A. Agasthya Karthikeyen, Pranov Krishna, Prakhar Jain, Jay Agarwal, Govind Gokul Lankipalli, Karan Nair, Sushain Garg, Gumma Venkata Sai Prem, Prateek Tripathi, Mann Vinod Goyal, Nehul Shrimankar, Deepansh Mundra, Sahaj Surana, Bhahulya Thirumalaisamy, Raja Sibi R., Anish C Marpalli, P. Sudharshan, Mrugesh Sandip Thakor
Senior Boys
Harsh A. Jain, Haswanth P., Shravan V., Mahinder Rakesh Udasi, Ayush Ranjan, Purna Viswak G., Ananth Gurusamy, Manaswi Kieran Akula, Hari Narayanan Vasavan, Ayush Himanshu , Sidharth Thazhathedathu, Aayush Kekalkumar Patel, Abhinav Ravichandran, Sathyanand V., Harsh Minocha, Vibhor Choudhary, Ande Harshvardhan, Devansh Lohariwal, Abhiraj Saraf
Senior Girls
Shreeya Mishra, Akshaya S. Iyer, S. Ackshita, Jhanvi Punjabi , Meenu Prasad, M. Kavya Sree, Sejal Bahl, Gayathri Jayaraj Menon, Apoorva Mohandas Polekar, Amrutha S. U., Ratikka R., Vasika V. G., Kaavya Kumar, K. Anagha Suresh, Yashvi Gupta, Krishna Priya Mohan, Kevadia Mudra Ramesh, Kusum Jindal, Dipti Sarawgi, Shruti Kumari Bhudolia
Our school held the Interschool Music Sahodaya – Nadarpanam on the 28th October 2014. There were 3 rounds – Carnatic Music Round, Hindustani Music Round, and a Round for Creativity. Out of the 11 schools that participated, our school bagged the overall championship. Jairaj Kulkarni (Class X) secured the 1st position in the Carnatic round and Kavya Kumar (Class X) secured the 1st position in the Hindustani round. The judges panel included Mr. Mani, a well-known mridangist in All India Radio, Mrs. Parvathy Mani, All India Radio graded artist, and Mrs. Mohana Krishnan, a well-known Hindustani vocal teacher and performer. Swami Swaroopanandaji and Swami Anukoolanandaji graced the occasion with their presence. All participants were given participation certificates and the judges mementos.
KAUSHIK SABOO – THE PRIDE OF CIRS CRICKET TEAM

On Saturday, 25th October 2014 Coimbatore District Association held its 56th Annual celebrations with the Secretary of Tamil Nadu Cricket Association as Chief Guest. Kaushik Saboo of Class XI Management (who represented our school in the Under 16 category last year and Under 19 category this year) got the best performance award of the year.
JUNIOR SCHOOL STORY TELLING & POEM RECITATION COMPETITION 2014

To sharpen the oratory skills of the junior school students a Story Telling & Poem Recitation Competition was held on 29th October 2014. The audience was transported to an imaginary world by the participants. The results were as follows.
Poem Recitation
1st position - Rohit Harikrishnan – Valmiki House
2nd position – S. Aishwarya – Valmiki House
3rd position – Sushain Garg – Vishwamitra House

Story Telling
1st position – Nitya G. V. – Vashista House
2nd position – S. Netigaa – Valmiki House
3rd position – Shankari Kartihkeyan– Vishwamitra House
ROTOMAZE - II Inter School Quiz
On 25/10/14 (Saturday), Karunya University conducted an inter-school GK quiz competition called "ROTOMAZE- II". It was done as part of their founder's day celebration. 18 teams from different schools took part in this event. Two teams from CIRS represented our school.
Team 1 comprised of Uday Gosain, Devanshu Bhatt and Kean Fernandes of Std X while team 2 consisted of Jayanth of 11th Science, Kank Fathepuria of IB 1 st year and Adiya Kanti Datta of IB 1st year.
After a written preliminary written round, 6 teams got qualified to play the finals. Team 2 from CIRS was one of the 6 finalists. In the finals, our team finished third. The winners were awarded a cash prize of Rs.500 besides individual trophies and merit certificates.
The festival of lights, Diwali, is celebrated with a lot of splendor at CIRS. The Diwali celebrations at CIRS this year kicked off with an auspicious start on the 21st October with celebration of 'Dhanwantari Triodasi' also called Dhan Theras. A blissful Puja was conducted in the school dispensary early in the morning to the worship of the Lord of Ayurvedic medicine for perennial good health of everyone in our lives. On 22nd October, Naraka Chaturdashi or Chotti Diwali was celebrated in a delightful manner in the morning through a Special Puja worshipping Mother Kali. 23rd October was celebrated as Diwali. On this day we worship Mother Lakshmi to strengthen our wealth (Goodness and inner virtues). Swamiji blessed the occasion by giving an inspiring speech explaining Diwali as one of the most significant festivals of the country. The message was – "Be like Deepavali Lamps. Let's carry Gurudev's lamp and light wherever we go thus sharing our love and respect wherever we go". During the day children participated in the Rangoli competition. The theme for rangoli for the juniors was 'Think Big' and seniors were 'MY TRANSFORMATION TRANFORMS THE NATION' AND 'VISION + ACTION = TRANSFORMATION'.

In the evening Arati, Lakshmi pooja was conducted followed by a skit and a dance performance by our students. Children then were made to light lamps in all the dorms and school block showing truly a row of light which signify the removal of darkness in our lives and remind us about our Self Analysis. 25th October was celebrated as Bhai dooj - an opportunity for the sisters to express their love and affection, to remind and strengthen the unique feature of our Indian Culture. All the girls of every class put a creative and wonderful show for their brothers during the evening aarti.
SUBHASHI WINNERS (OCTOBER 2014)
"Subhashi badge" is an honour bestowed upon those students who avoid the use of foul language. The following students were awarded a "Subhashi badge" on 23rd October 2014.
| | |
| --- | --- |
| Name | Class |
| Preeti Prative | V - B |
| S.Sukesh | VI - B |
| V.Sanjana | VI - A |
| Sridhar Shatrughan | VII - C |
| Sanjay Srinivasan | VIII - A |
| S.Srithiga | VIII - B |
| Palak Agrawal | IX - B |
| Lakshmi Priya | I Yr. IB |
CIRS 'Under 16 Girls' team participated in the CBSE NATIONAL SWIMMING CHAMPIONSHIP and brought laurels to the school . The tournament was held from 16th October to 19th October at Urmi School and Hostel, Sama, Vadodara, Gujarat.
Mahak Sunil Bhandari secured the first position in the Aquathlon (Under 16 & 19 Combined Category) event. In the Under 16 4 x 100m Free Style relay, our team (S. Ackshita, Jhanvi Punjabi, Mahak Sunil Bhandari, Anjole Donapaty and Padmashree P) won the second position. Our team (S. Ackshita, Jhanvi Punjabi, Mahak Sunil Bhandari, Anjole Donapaty and K. V. Kovarthana) also won the second position in the Under 16 4 x 100m Medley relay.
MATHEMATICS SEMINAR FOR CLASS VI –VIII
Mr R. Prakash and Mr Rakesh Das of the Mathematics Department attended a Seminar for Class VI –VIII. This seminar was conducted by Mrs Revathi Sivasankar of Ratna Sagar Private Limited at Shri B.S.Mohta Sr.Sec.School, Chennai on October 18th 2014. The discussion included topics on innovative methods for teaching mathematics along with teaching techniques for slow learners. Use of multiplication tables in fast calculations, introduction of maths concepts using non mathematical terms and concepts such as fractions, algebraic identities and trigonometric ratios were also discussed.

MARCHING FORWARD: A CAREER COUNSELING MODULE FOR CLASS 10 AND 12
"Marching Forward" - A comprehensive programme launched at CIRS towards guiding our class X and XII students in making right decisions by choosing the appropriate stream, college and career according to their aptitudes and interests.
Under this program, a number of sessions are planned and designed to suit the needs of the children. They are......
Know Thyself (Aptitudes and Attitudes) – Swami Swaroopanandaji
Discussion cum Activity - Swami Anukoolanandaji
School Policies on Admission - Principal
An Insight into Careers – Shiv Dewan of One Step Up
Don't Miss out - Scope of Science, Management and IB
Admissions Abroad – Madam Sandipa
Where are Our Alumni?
Voice of Alumni – (Via Skype, e-mail, Meeting)
Parents as resource in career guidance
Session with Swamiji on 29.07.14 & 31.07.2014

Swamiji inaugurated this program and blessed the students of classes 10 and 12. He emphasized on making the right choices in life and choose a career according to ones swabhava.  He also used activities, stories, real case studies to discuss about knowing one's own aptitude and attitude. He also gave students few reflective questions to know themselves better.   He concluded his session by inspiring the students with this year's theme "Think Big, Now is the Time".
Session with Principal on 05.08.2014
Our Principal, Smt. Shanti Krishnamurthy addressed the class 10 students on CIRS norms and procedures for admission of students to class 11. She also emphasized the importance of academic performance and conduct as the basic criteria for admission of any student to any school. She motivated the students to perform well in not only their formatives but also their upcoming SA exams.
She also clarified doubts and queries of the students pertaining to School Based exam or Board exam, subject combinations in class 11, difference between IB and CBSE, etc. Students were enriched by this session and gained clarity on various issues.
Session with our alumni on 16.08.2014

Five of our alumni from 2014 batch of grade 12, Sanjay Krishna, Lakshan Ram,  Priyadarshan, Athippan  and Ajeya addressed our grade 12 Science students on 16.08.2014 from 2.30 pm to 3.30 pm.  It was an interactive session where they shared about college admissions and how to prepare for the entrance examinations.  They answered a number of questions asked by the students our school.
Visit by UK Delegates on 26.08.2014

British Council has come up with the initiative of SCHOOLS MISSION this year.  The objective of this schools mission is to strengthen relationship of the UK with schools in India. This mission is focused on two areas: (i) Faculty interaction with the prominent members in the school  (ii)  Direct interaction with 11 & 12 grade students through presentation on UG in the UK followed by face-to-face meeting so that they can understand what UK has to offer them; if they are planning to study in the UK, it will be very useful if parents are able to join during this interaction since they are the decision-makers.
CIRS is one of the very few selected schools for this initiative of British Council.  As a part of this mission, 12 delegates from UK universities visited CIRS on 26th  August 2014.  The universities and the representatives are listed below.
| | |
| --- | --- |
| Name of the University | Representative |
| Cardiff University | Somnath Nandy |
| Leeds Metropolitan University | Jayashree Raghuram |
| Newcastle University | Preety Bansal |
| Northumbria University | Salil Gupta |
| Plymouth University | Daniel Rowe |
| Royal Holloway, University of London | Ellis Huddart |
| University of Exeter | Vivienne Fenandoe |
| University of Glasgow | Neharika Kataria |
| University of Surrey | Sharath Meppallil |
| University of West of England | Sharon Shalini |
| Coventry University | Inderjit Mann |
There was a workshop for career development followed by an Exhibition of famous UK Universities.  The students were immensely benefited out of this visit and CIRS is grateful to British Council for their effort.
Session by Resource Persons from One Step Up

24.09.2014 & 25.09.2014
Mr. Shiv Diwan and Mrs. Shilpa from One Step Up, came to our school and addressed the students of class 10 and 12. Through presentation and discussion, he touched upon various careers, their strength and weakness, the eligibility criteria, the entrance and admission procedures and their future prospects and cost involved. He gave various insight into different career modules and the careers touched upon were as follows: Actuarial Science, Medicine, Engineering, Civil Services, Law, MBA etc.
16.10.2014
Officials of Nottingham University and Alabama University (Huntsville Campus ) visited our school on 16th Oct to address the students of classes XI and XII who are interested in art and design.  They spoke about various courses available in design and the existing facilities in Nottingham University and Alabama University. They briefed about the application processing and importance of portfolios.
Mr. Sasidharan, Managing Director, IMTP Consultancy Services (Chennai) Pvt Ltd, gave a presentation on Ls Salle Singapore.
17.10.2014
Ms. Tessy Manalil, India Country Coordinator of Miami University addressed our students regarding admissions into design and architecture. She emphasized on the importance of portfolio.  She spoke about the admission norms, facilities offered by the university and the merit based scholarships.  It was a very useful session to all the students who were interested in design.
On 13th and 14th of October 2014, the students of 8th grade had an experience of becoming engineers and scientists as they performed various hands-on activities on 'energy production from alternate energy sources'.

Sri Murugesh, a parent of our school, volunteered to inspire these young minds and was kind enough to conduct this workshop for our students. He had brought activity kits with him from the U.S and the students used these kits to conduct their experiments. Each class spent about 2 hours performing about 4-5 activities, demonstrating these activities in front of the class and also answering the questions posed by Mr. Murugesh.

An awareness about the importance and advantages of invaluable renewable energy sources like wind, water, solar and chemical energy over the burning of the fossil fuel was created.
All the students were so engrossed in building the models and see them working that 2 hours passed in no time. Students were exposed to many new concepts of science like energy, voltage and current and also many devices like voltmeter, ammeter, generator and solar cells. Projects on energy transformation from Solar energy and Wind energy were also done. On the whole the sessions were very exciting, interesting, encouraging and extremely fruitful for the students.

MANAGEMENT WEEK - BUSINESS QUIZ
Management Department celebrated "Management week" from 13th to 18th October 2014. The week was filled with various activities including culture talk by students on the great Arthashastri 'Chanakya'.

Apart from this, a career talk by Shri Shankar Ramji, Director of Grey Matter Academics (P) Ltd was organized, who guided our senior students towards different career options through Management stream. During the week, videos were shown on topics like innovation, advertisement and sublimation during class hours with discussions on it.

On the final day of Management week, COMQUEST-2014 - an inter school Business Quiz/ Challenge was conducted, where about 20 schools participated with 130 students. There were different exciting rounds checking the Knowledge, Risk taking abilities, Business Strategies and Team work of the participants. It was well received by all. PSG Public School was the overall winner of Comquest 2014.
INTERSCHOOL SWIMMING CHAMPIONS 2014
Our school participated in the Tamil Nadu Interschool swimming championship organised by Jenny's Residency Club, Coimbatore held on 11th October 2014.
The results are as follows:
Girls Individual Events
Name

Event

Medal

Ackshita Senthilnathan

50 m Free Style
100 m Free Style


Silver
Silver


Jhanvi Punjabi
50 m Breast Stroke


Silver


Mahak
50 m Breast Stroke
50 m Back Stroke
100 m Back Stroke
50 m Butterfly Stroke


Gold
Bronze
Bronze
Bronze

Anjole
50 m Free Style

Bronze


Sitara A
50 m Breast Stroke


Silver

Girls Relay Event
Name

Event

Medal

Ackshita Senthilnathan
Jhanvi Punjabi
Mahak
Anjole


4 * 50 m Free Style


Gold

CHINMAYA KHEL MILAN TABLE TENNIS TOURNAMENT
Six of our students participated in the All India Chinmaya Khel Milan Table Tennis Tournament held at Chinmaya Vidyalaya, Hubli, Karnataka from October 8th to 10th. Ashutosh Rajiv Bohra of grade XII emerged as runners in the Under 19 boys category.
Our school Annual Day, Anand Utsav 2014 started in the afternoon on the 6th of October with the arrival of hundreds of our parents and ended with their departure by 12 O Clock on October 08.
Immediately after the Inaugural function in which the Balamandir students gave a scintillating performance, the VidyaVaibhav (Project cum Exhibition) and Parents Teachers Meet started. Swami Swaroopanandaji graced the occasion with his presence and he visited the Project venues to interact and encourage the participants.
In the VidyaVaibhav, [Class and Department Projects] which showcased the talent of our students, there were thirteen project cum exhibitions comprising 4 class presentations and 9 department projects. Most of the projects were based on the ISA topics and it demonstrated the work done by our students.Each class and department had a venue to put up their work on display while the Department of Management had three stalls to sell different items so as to collect charity and also had a project venue. The department of Sports had three sports stalls where various games of interest were carried out.
English department worked on the School Magazine 'Awareness' with students-editors and brought out a comprehensive school magazine that stands proof of the journalistic skills of our students and staff.
Music department enthralled the visitors with their soul stirring songs on Bhakti.
Our school library which had an exhibition cum sale bookstall by Sapna Publications made a huge sale of books.
The CHYK members also could make an extraordinary sale of their products while the Ashram Book Stall installed in the library made profitable sale.
Apart from class and department projects, in order to encourage the budding photographers of our school, a vantage location was provided to keep their photographs on display.
Huge amount of project requirements were procured by the administrative department which worked tirelessly to arrange the project venues, food stalls, Main stage, Vehicle Parking area, Material supply, etc.
On October 06th in the evening, there was a talk by Swami Swaroopanandaji that left the audience mesmerized. On October 7th, the evening program started with the delivery of Annual Report by our Principal Smt. Shanthi Krishnamuthy.A number of awards were then conferred on the students in order to motivate and encourage them to strive for excellence in various fields.
It was followed by the cultural program in which hundreds of our students exhibited and exploited their dramatic skills.The cultural program brought out the theme of socio-cultural virtues like patriotism, human relationship, spiritual values, etc. The play with the digital backdrop was ably directed and the student-participants were exquisitely trained by our spiritual Acharya Swami. Anukoolananda with the help a number of our staff members. 
The next day, the 8th of October, the last day of the annual day celebrations saw many of our parents moved to tears in the morning during the Mathru Pithru Pooja in which our students got an opportunity to worship their parents. In the afternoon at 12 O clock, the Annual Day celebrations came to a close and the parents took their wards for an enjoyable and well-deserving outing.
NAVARATRI - the festival of victory over evil
CIRS students and teachers celebrated Navratri dedicated to Goddess Durga, Saraswati and Lakshmi. The day began with the chanting of 'Lalitasahasranam' in the morning, 6.00 to 6.30 am by few staff members. This was followed by the chanting of 'MEDASUKTAM' in the assembly.
The evening aartis were made special with the chanting of Mahisasura Mardini and Matru Stavanam followed by 15 minutes of dandiya. On the eighth day the students wore ethnic Indian dresses. The CIRS family danced to the dandiya beats for continuous two hours. The tenth day was celebrated with Lord Ram performing aarti and killing the ten headed asura, Raavan.
Click here to view the gallery.
CBSE South Zone Swimming Meet 2014
Our school participated in the CBSE South Zone Swimming Meet organized by The Pupil Saveetha Eco School, Chennai. Out of the 1000 participants from 25o schools, Under 16 Girls category from our school qualified for Nationals in 4 x 100 Free Style Relay and 4 x 100 Medley Relay. They secured the 1st position in both the relays.
4 x 100 Free Style Relay Group
S. Ackshita, Jhanvi Punjabi, Mahak Sunil Bhandari, Anjole Donapaty, Padmashree P
4 x 100 Medley Relay Group
S. Ackshita, Jhanvi Punjabi, Mahak Sunil Bhandari, Anjole Donapaty, K.V. Kovarthana
Ganesh Utsav was celebrated for 11 days. The idol of Ganesh beautifully made was worshipped for 10 days, and the 11th day the idol was immersed during visarjan ceremony. Every class was allotted a particular time to perform pooja. Indeed everyone felt elated at the grant manner in which the celebration was carried out. Adding to the grandeur of the celebration every class made a rangoli of Lord Ganesha at the entrance of MPH. In the evening arati, each class did the pooja, sang bhajans keeping up the spirit of the festival.
On the final day the pooja was performed by the administrative staffs. Ganapati's idol from ashram was brought to the school, and at the end of the pooja both the idols were taken in a procession accompanied by staffs and students. This year the idols were immersed in Sadivayal. Lord Ganesha, the Lord of five elements immersed himself in one of the elements, water. Thus the Ganesh Utsav completed with a happy note.
TEACHERS DAY CELEBRATIONS AT CIRS
The CIRS students celebrated Teachers' Day on 5th September 2014 to express their gratitude to all the teachers and in memory of the great teacher Dr. S. Radhakrishnan, the second President of India. The children organized a special programme in the evening for the teachers. From 3.20-5pm all the teachers were engaged with different games. All teachers had a fun filling session and participated with energy and enthusiasm.  The love that the students of CIRS have for their teachers is beyond the mere expression of words. The students portrayed their gratitude to the teachers by entertaining them with a programme in the form of a play, an amazing dance performance, and finally a touching song. We ended the programmed with blessings of Swami Swaroopanandaji followed by a memorable power point presentation by our dear students.
Children extended their love and gratitude towards the teachers by gifting them a certificate bearing the name of the respective teacher.
OUR DEAR PRINCIPAL RECEIVES THE MENTOR AWARD
On the eve of Teachers' Day, the Union Minister for Human Resource Development, Smt. Smriti Irani, felicitated the Central Board of Secondary Education (CBSE) Teachers and Mentors for their contribution to the field of education. Commemorating the birth anniversary of former President Dr. S Radhakrishnan, the Board acknowledged the role and impact of the teachers in strengthening future generations.    Our Principal Smt. Shanti Krishnamurthy is one of the 15 principals across the country who have received the Mentor Award. The Mentor Awards recognise principals who go an extra mile in their endeavour to promote excellence.

Mentors are selected on the basis of their training experience, professional guidance, positive role-modelling, collaboration with mentee schools and initiating innovative practices.
The HRD Minister congratulated all the awardees and highlighted the importance and role of teachers in inculcating values in children in building a society and a nation.
(Click on the picture to zoom)
GEETA CHANTING COMPETITION 2014
On 31st August 2014, CIRS students participated in the District level Geeta Chanting Competition held at Coimbatore.  The results were as follows:

'C' Group
Jyoshita of Class 7C secured the 3rd position.

'D' Group
Varsha Subramanian of Class 12 Mgmt secured the 1st position followed by Ashwini Athreya  of Class 8A securing the 2nd position and  Deekshita M of Class 9B and Krishna Nair of Class 12 Science sharing the 3rd position.
The NCC cadets and IB 1st year students organized a disaster awareness campaign  on 30th of August in Perumal Kovil Pathi village near Tamara Resort. The programme started with an enthusiastic and energetic dance followed by four different skits which carried an awareness and message for the villagers. All the skits were based on creating awareness on Drunk and drive, Child labour and other general issues where the villagers have been educated.
The rally and the different activities made local villagers aware about these issues. The villagers also appreciated the initiative and took active part in the informative session.
The CIRS family was very privileged and blessed to have the Head of Chinmaya Mission, Swami Tejomayananda, in our midst in the month of August.

Our Pujya Guruji took some time from his busy schedule to interact with the teachers and students of each class. During the sessions students and teachers sang a bhajan and some students from classes 5-12 presented the third pancharatna krithi 'sadhinchane' to Swami Tejomayanandaji. Pujya Guruji enjoyed the song and he blessed the children. In all the sessions students and teachers clarified the doubts and these were answered by Guruji in his inimitable simplistic style, with everyday instances and experiences as examples.  
We all were in awe of his humility, simplicity and his monumental spiritual knowledge.
British Council has come up with the initiative of SCHOOLS MISSION  this year.  The objective of this schools mission is to strengthen relationship of the UK with schools in India. This mission is focussed on two areas: (i)  Faculty interaction with the prominent members in the school  (ii)  Direct interaction with 11 & 12 grade students through presentation on UG in the UK followed by face-to-face meeting so that they can understand what UK has to offer them; if they are planning to study in the UK, it will be very useful if parents are able to join during this interaction since they are the decision-makers.

CIRS is one of the very few selected schools for this initiative of British Council.  As a part of this mission,  12 delegates from UK universities visited CIRS on 26th  August 2014.  There was a workshop for career development followed by an Exhibition of famous UK Universities.  The students were immensely benefited out of this visit and CIRS is grateful to British Council for their effort.
KRISHNA JANMASTAMI CELEBRATIONS
The day began with the pooja of Sri Krishna in the morning. After the pooja there was a special session named "Krishna plays". In this session different games were planned. Students came in groups to different venues and had the wonderful opportunity to play the games and relate them with Krishna. All the games incorporated Krishna and the students enjoyed these games very well.
At night we had an excellent and energetic bhajan session. Students danced to those fast beats of the bhajans and the whole environment was filled with devotion towards Krishna. Poojya Swami Swaroopanadaji's presence not only added divinity to the evening but also made the evening literally Madhuram and meditative. After the dance and bhajan session Swami Swaroopanadaji addressed on how to control our mind, senses and the path  to surrender to Shri Krishna followed by meditation singing Sri Krishna Sharanam Mamah.
This was followed by the birthday celebration of Lord Krishna, Jhula Darshan and Matki Phod.
INDEPENDENCE DAY CELEBRATIONS AT CIRS
15th August, a day of great significance started at 6am for all the National builders of CIRS. The function started welcoming our Chief Guests Sw.Anukoolanadaji, Madam Principal and Madam Headmistress by our NCC Cadets. The Flag hoisting ceremony took place and like never before, CIRS had 68 flags signifying 68 years of Independence and success. The main flag in front of the dais was hoisted by Madam Principal and the rest which decorated the perimeter of the field was hoisted by all staff of CIRS. The proud moment of looking up to the flags and singing National Anthem out loud was cherished by everyone. This was followed by a meticulous March past and melodious Patriotic Songs by the school choir.

Madam Principal and Swami Anukoolanadaji addressed the gathering and inspired us with their motivational speech which made every student decide in their mind to bring up the Nation to a greater height. The prizes were distributed to the winners of Bhagawad Geeta chanting competition after the talk which was followed by the sweet distribution.

The evening was made delightful by our Balmandir Kids, who did a beautiful presentation on showing different cultures of India and also representing Unity in Diversity. All the 10th graders put up a show contrasting the life style of the people of India then ( pre-independent India) and India now( Independent India).Swami Swaroopanadaji honored us by his presence and he addressed us with the message that Gurudev never followed any trend but he used to be his original and independent. The celebrations ended with Aarti and of course the message inspired hundred's of minds racing to be the change following Mahatma Gandhiji's quote " Be the change you wish to see in the world"
SANSKRIT WEEK CELEBRATIONS AT CIRS
Sanskrit week was celebrated at Chinmaya International Residential School from 7th August, 2014 to 13th August, 2014.  A number of activities in Sanskrit were organized for the students during this week. The objective of Sanskrit week celebration was to give an insight to the students about the greatness of this language and also to motivate them to understand and appreciate the cultural heritage of India.
A Talk in the Assembly:
Sanskrit week celebrations began with a talk in the morning assembly on 7th of August, 2014.  Praneeta Tiwari of 9 of grade IX gave the talk in which the greatness and uniqueness of the Sanskrit was emphasized. She reiterated the great role of Sanskrit in setting India's cultural heritage and wisdom.  

This talk was video graphed and is available in the Youtube link : https://www.youtube.com/watch?v=j4GNwWqSetw

A Presentation in the morning assembly
On 8th of August, 2014,  a power point presentation was shown to all the students of the school.  The presentation gave a glimpse on how Sanskrit reveals Indian culture and tradition and most importantly how it carries the Vedic knowledge of our country and thus perpetuated it through generations. 
Group Song  Competition:
On 9th of August,  a group song competition was organized  for the students of VII and VIII. Six groups of students rendered songs in Sanskrit  melodiously. 
Sanskrit Quiz
On 10th of August, a Sanskrit quiz was conducted for the students of grade X.   The quiz was based on Sanskrit literature.  Students participated actively in the quiz programme. This was done to provide an opportunity to students to come out, share their  knowledge of Sanskrit and learn it  from each other.  
Competition – Sloka recitation
On 11th of August, the department of languages organized a competition of Sloka recitation for the students of VIII and VII.  This was done with view of strengthening the pronunciation of Sanskrit.  Students recited slokas from Srimad Bhagavad Gita, Mukundamala etc.
Panchatantra Stories- Animated Movie
On 12th of August, Animated Sanskrit movie, which is made based on Panchatantra story, was screened for students of Grade V.  The movie was shown in order to expose our students to the richness of the languages which is used not only for promulgating divine and spiritual knowledge but also for entertaining and enlightening stories. 
Poetry writing Competition  
A  poetry writing competition in Sanskrit was conducted on 12th August, 2014 for Grade IX students in order to encourage  linguistic creativity.  A number of students took part in it enthusiastically and came up with meaningful poems.
CIRS TEACHERS RECEIVE APPRECIATION LETTERS FROM MINISTRY OF HRD
22  teachers from Chinmaya International Residential School  received letters of appreciation from Union Minister of Human Resource Development, Smt. Smriti Zubin Irani. The letter addressed each teacher personally and congratulated them for the performance of their students in the board examinations in their respective subjects.   In her letter, she has mentioned the following lines:
"I firmly believe that it is the teacher who plays the most critical role in influencing the minds and personalities of young students. I thank you for your commitment and dedication,"
The letter also stated that Smt. Smriti Zubin Irani is looking forward to work with teachers to ensure that the "culture of excellence and innovation that the teachers exemplify becomes synonymous with education in India."
Our Pujya Gurudev Swami Chinmayananda's birth centenary celebrations are going to be held throughout the year 2015-16 from 8th June. The Chinmaya education cell is organising a huge all India Teacher's conference at CIRS. In view of the same, the summer vacation for the class 11 and 12 CBSE students and the first Year IB students will commence from 16th May 2015 after 9 am. However, the IB II Year students will have their final exams as per the schedule. Parents can make arrangements accordingly.
Personal hygiene is the first step to good health and it is important to know, understand and practice good personal hygiene as early as childhood to ensure a healthy life style.  So on 11th of August the 5th and 6th graders had a session on Personal health and Hygiene. The session was conducted by Mrs. Rajeshwari and Mrs. Bhuvaneswari.
The points highlighted were on  hand washing techniques, oral care, and bathing.  A video on personal hygiene and health was also shown to the children.
CIRS CELEBRATES RAKSHABANDHAN WITH JOY
Relationships are the essence of any festivity and it holds true for any Indian festival. Each occasion brings the family together which calls for a celebration. Raksha Bandhan is a celebration of one such relation - that of a brother and a sister.
The day at CIRS began with the changing of Sacred Thread Ceremony Avani Avittam  in which quite number of teachers and children participated.
Our Cultural secretaries spoke about the importance of celebrating Indian festivals and Raksha Bandhan.  Society requires celebrating these festivals to sustain our tradition and culture. This festival reminds each one of us that relationship comes from bravery, strength and also commitment of brothers towards sisters. The celebration also reminds each one of us the purest of all relations is the brother sister relationship and in the school is an occasion to express each one's love and affection as a part of the whole family. Few brothers and sisters from the student body expressed their bonding and love towards each other.
In the evening during aarti time the brothers of each class presented a show for their sisters to express their feelings of brotherhood, love and concern.
After dinner the staff and faculty members presented an amazing program for their sisters to express their respect, love and concern towards them.
36 students from classes 5-12 participated in a state level cultural and literary competition conducted by the Lakshmi Old Students' Association in TVS Matriculation Higher Secondary School, Madurai from August 2nd to August 3rd, 2014. Our students participated in group  events like Anthakashari, Fusion dance, Group enactment, Ad-Act,  and a number of individual events.  The students  won 30  prizes in various categories.
The students of grade V and VI have gone for an educational tour to the Gods Own Country, Kerala from 20th of July till 24th of July. Cochin, which ranks first in the total number of international and domestic tourist arrivals in Kerala and Wayanad which is also praised as,  'The Land of Paddy Fields' and exclusively known for its adventure tourism. We were so fortunate to visit such eye-catching spots. In Cochin, they visited Synagogue (Jews' worshipping place) and Dutch palace in boat cruise. 'The Wonderla' was the most awesome time spent place and Chinmaya International Foundation where they had a Spiritual tapping. In Wayanad they visited Banasura Dam – the world's deepest natural dam and Edakkal Caves. Thus the trip provided the children both recreation and education. They reached back safely to CIRS at 1.30 on 25th of July.
The students of grade 7 visited Kanyakumari, Trivandrum and Cochin. In kanyakumari they have visited kumari Amman temple, Vivekananada Rock memorial, Thiruvalluvar statue, Sunset point, Susheendram temple. In Trivandrum they got an opportunity to visit Padmanabaswamy temple, Kuthiramalika palace/Museum, Priyadarshini Planetarium, Trivandrum zoo, Sree Chitra Art Gallery and in Cochin they had an amazing time in Wonderla, Lulu mall, Dutch palace and Chinmaya International Foundation.
There was lot of learning and fun throughout the trip. Children were exposed to the ancient art and architecture in the palace and museum. They admired at the glory of the great saint Swami Vivekananda and his works. They enjoyed the cultural show (Mohiniattam and Kadhakali) in the hotel. The art works of Raja Ravi Varma were enjoyable. They were introduced to many art forms such as Mural paintings. They enjoyed the planetarium going through all the exhibits in all the disciplines such as Physics, Mathematics Engineering, and Space etc. In the Zoo, a complete awareness about the biodiversity found in the Indian subcontinent was experienced. They had lot of adventures in the Wonderla theme park.
94 students of grade 8 had a golden opportunity of visiting Delhi, Sidhbari and McLeodganj. They visited historical sites like National Museum, War memorial, Kangra Museum and Humayun's tomb. They were all blessed to visit divine places such as Sidhbari ashram, Dalai Lama temple. Children were exposed to the ancient art and culture in the temple and museum.
They had a special aarti near Gurudevs Samadhi followed by a discourse by Swami Subhodanadaji. They also had a great opportunity to visit Pujya Gurudev's Kutiya. Visit to CORD has created an awareness of their work and all the students were happy and felt proud to be a part of this great organization.
All the children were enchanted by the beauty of Dal Lake. In Dalai Lama temple they understood the Tibetan culture. The tour was indeed a blessed and enjoyable one and this tour will always be cherished in their memories.
SITARA WINS NATIONAL PHOTOGRAPHY CONTEST
The DJ Memorial photography contest organised by Lakshmi Machine Works was held on 30th July 2014. The theme was "Nature, Bird and Landscape". Out of the 3,150 contestants from across the country Sitara's stunning photograph of "Five owlets perched on a tree" caught the judges' eyes. She was awarded the third prize which included a cash prize of Rs 1.5 lakh and a certificate.
CBSE - SHOOBH PHOTOGRAPHY CONTEST - 2014
Following ten students of our school took part in the CBSE – SHOOBH Photography contest 2014 in different categories. Their photographs on the topic 'JOY' were mailed on 30 / 07 / 14 to the given e-mail id as per the instruction in the CBSE notification.
In the category VI- VIII, the following students took part.                      
Maanit Patel  -  VII A
Madhav Kaliyash – VIII A
Sitara  -  VI B
In the category IX -X
Adithya – X
Sejal - IX
In the category XI - XII
Gayathri  -  XII Science
Kiran -  XII Science
Sanjeev  -  XII Science
Taruna  -  XII Science
Ayush Anand   - XI Science
Human welfare, through creative self-expression, is the underlying philosophy of the contest. The mode of expression used in this contest in Photography.
SHRIYA ATMAKURI WINS INSPIRE AWARD
Shriya Atmakuri has qualified for  the Award of Scholarship for Higher Educaiton (SHE) under innovation in Science Pursuit for Inspire Research (INSPIRE) by virtue of performance within top 1% of the Senior School Certificate Examination conducted by CBSE in March / April 2014. CIRS is proud of her achievement!
TABLE TENNIS TOURNAMENT RESULTS
Our students participated in the 37th Coimbatore Sahodaya CBSE Schools Table Tennis Tournament held at Soundaraj Vidhyalaya School, Dindigul on 18th and 19th July 2014. The results are as follows:
Under 14 Boys
Singles : Milind Kumar Agarwala - Third position
Under 16 Boys
Doubles: Rohit Ganapati Shenvi Ghode &Suyash Roy – Runners-up
Under 19 Boys
Singles : Ashutosh Rajiv Bohra - Third position
Doubles: Prit Bhavesh Chovatiya & Ashutosh Rajiv Bohra – Runners-up
India's soul, pride and essence lie in its culture. To impart this culture to the youngsters of today, Society for the Promotion of Indian Classical Music And Culture Amongst Youth, often known by its initials (SPICMACAY) have been visiting many schools, colleges, institutions, etc. On 21st July, was CIRS's chance to be blessed with and appalled by the performance of Pandit Partho Sarathi and Mr. Ashish Paul, who are a part of SPICMACAY organization. In order to educate as well as entertain us, our school organized a concert by Pandit Partho Sarathi and Mr. Ashish Paul. This program started off with a lot of valuable information about, SPICMACAY's inception, purpose and achievements.  Then, we had Pandit Partho Sarathi and Mr. Ashish Paul enlighten the audience about the beauty of music and its significance in Indian culture. They also told the audience how one can enjoy this music and how they must synchronize with it. This was just the beginning of a mind-blowing performance! The programme started with the artists playing first meditation and the raga called Saraswathi ending with druth jhaala. This was followed by dhun. The spectators were completely convinced of the greatness of Indian classical music after hearing the melodies on Tabla and Sarod. After this, there was a question answer session where worthy questions were asked and convincing answers were given. It was a prolific and entertaining program with a lot of knowledge imparted to the spellbound audience. 
The results (first 20 positions) of the Cross Country Race held on 14 July 2014 are as follows:
Junior Boys (3 km)
Tarun, Sudharshan, Sai  Prem, Murugan, Deepansh, Abinav, Guhan, Mithilesh, Mann, Bhahulya, Sahaj, Anirudh, Karan, Pranav, Agasthya, Gowtham, Prakar, Harsh, Anish and Siddanth.
Junior Girls (3 km)
Sadhana, Palak, Indirani, Jhanvi, Padmashree, Kavya.G, Saasha, Dhruvi, Riti, Kaviyaa Suresh, Ami, Tanmayee, Shreenitha, Anjole, Shreyah Poornan, Harshita, Kovarthana, Pranathy, Sitara and Mehak.
Senior Boys (5 km)
Bharath Narayanan, Parikshet, Parth, Anant D, Ayush Patel, Govind, Ayush Panchamiya, Utkarsh, Praneet, Anand Guru, Hari, Alark, Vishwak, Arjun E, Ayush Ranjan, Haswanth, Manaswi, Shravan, Mahen and Harsh Jain.
Senior Girls (3 km)
Aparna, Lakshmi  Priya, Jiya, Anaga, Brinda, Vasika, Amrutha, Anjani, Srishti, Krishna Priya, Kavya Kumar, Deekshita, Aarshi, Keerthana, Akshaya, Niranjana, Apoorva, Ramya D, Sagarika and Jothi.
The English week was held from 14th to 19th July. The features of the English week were as follows:
ENGLISH QUIZ
The English Quiz was conducted on 15-07-14 for Juniors and on 16-07-14 for Seniors to foster the enquiring spirit of the students.
JUNIOR ENGLISH QUIZ
The first prize was bagged by the vibrant Valmiki house and the second place went to the Vishwamitra house.
Vyasa

Vishwamitra

Name

Class

Name

Class

Ashwini Sridar Athreya

8A

K V Kovarthana

8A

Shreyah P

8C

Madhav Kalliath

6A

Aryan K

7A

Rithu L R

7A

S Neha

6B

Surtaringini Devi

6B
SENIOR ENGLISH QUIZ
The first prize was bagged by the vibrant Valmiki house and the second place went to the Vishwamitra house.
Valmiki

Vishwamitra

Name

Class

Name

Class

M. Rhoshen Prathyug

10C

Mohandas S G

IB II

Sambhavi M

10B

R Lakshmi Priya

IB I

Saravanan P

IB II

Arun Anantha Narayanan

12 Mgt

Shyam Mohan

12 Mgt

Kundoor Roshan Menon

10A
DEBATE FOR SENIORS
An inter-house English debate was held on 17th July 2014 for seniors and super seniors. The topic for seniors was "RESIDENTIAL SCHOOL ALONE CAN CRAFT YOUR CHARACTER".  And for super seniors the topic was "IN TODAY'S WORLD CITIZENS MUST HAVE THE RIGHT TO PRIVACY". It was well contested by both the houses. All orators delivered their speeches with confidence and enthusiasm. All in all it was an evening well spent and intellectually stimulating. The following students were announced as winners for their best performances.
Senior Category (Classes 9 & 10)
For

Against

Name

Position

Name

Position

Aayush P & Shreyansh R

1

Pramita

1

Sanish Kumar

2

Lakshmi Annamalai

2
Super Senior Category (Classes 11 & 12)
For

Against

Name

Position

Name

Position

Varsha Subramanian

1

Garimella Mahati & Vennela Siri Medapati

1

Arun Sriram

2

Akshay K

2
HALF A MINUTE SPEECH
The English Department conducted the "Half a Minute" speech on 18-07-2014. Sarvesh Mathiyazhagan (IB 2nd Yr) bagged the first prize and the second place went to Ayush Anand (12 Science).
MAKING THE IMPOSSIBLE POSSIBLE
Alark Dhaval Thakkar (Class IX) summited the Stok Kangri peak (6080 mts) which was a difficult expedition due to the heavy snow fall. He was the youngest in his group. Out of the 7 that attempted the summit only three succeeded in reaching the top. Alark was one of them. As per the guide he was in lead till the end. This expedition has boosted his confidence.
SEMINAR ON "Shape your Destiny" and "Study Skills for Success"
Students of classes IX and X had a session on "Shape your Destiny" by Mr Deren, a CHYK member from Australia. The main purpose of this seminar was to guide the students to choose their career wisely. Mr. Deren also spoke on how to discover their hidden talents.
Students went through a journey where they were kept active and entertained throughout with different activities. Mr. Deren also mentioned in his talk that nothing should disturb their passion and goal and when one's dream comes true he feels that his life has become a meaningful journey.
Students of Classes XI, XII and IB had a session on "Study Skills for Success". The main purpose of this session was to introduce the effective study methods for a successful student life and how to manage and plan time for different activities.
The session included a presentation and many fun filled activities on memory and time management. He also quoted his life as an example which proved to be very effective. The students thoroughly enjoyed the humor filled session and it has been an eye opener for all of them.
BIRD WATCHING CLUB – Spot a sparrow!
A club named "bird watching" has been included as part of the hobby classes. This club was initiated by Mrs. Gayathri and Mrs. Padmavathy from the Science Department. This hobby has been introduced with the vision of creating a sense of awareness among today's youth on the conservation of natural resources.
On Wednesday, 9th of July, 2014 Mr. Anand an Ornithologist from Pothanur addressed the students regarding the conservation of birds especially sparrows as they are endangered. Mr. Anand is working as a journalist in the Indian Express and is an independent documentary film maker too.
He explained the different ways to attract birds and build nests as sparrows are the only birds which are dependent on human beings. He also mentioned that there is an urgent need to increase the population of the sparrows.
The session was inspiring and the club hopes to grow in the upcoming years with the intention to conserve our natural resources.
First Lego League International Championship Canada – 2014 for Robotics
Maharshi Malani of Class IX C participated in the First Lego League International Championship Canada – 2014 For Robotics held in Canada in the month of June-2014 on behalf of India. The team was awarded for their unique efforts and performance.
Summer vacations!!! The very sound of it is so relaxing. So why were the teachers of CIRS so happy to return from the break? Because a more wonderful break awaited them at the quiet and cool climes of KODAIKANAL.
The two day trip started in the wee hours of 25th June, even before the sun came up and reached Kodaikanal at lunchtime. After a relaxing and a sumptuous lunch all the teachers gathered for an activity that had them tailoring their garments and walking the ramp to advertise them. And would you believe it - all these were made from newspaper!! It was wonderful to see all the teachers come out of their comfort zones and pitch in to help each other.
In the evening a trek was organised and after many moments of silence by the riverside followed by Bhajans at the ashram it was time for another mouth watering spread at dinner.
The next day began with meditation and a spiritual talk followed by an activity that had all the department members working out their strategies to bring Gurudev's vision to fulfilment. This was followed by a site seeing tour boat rides on the lake and shopping.
The teachers returned to campus rejuvenated, invigorated and enthused to carry our Gurudev's vision in and through their actions in school and in their life!
There would not have been a better occasion than Pujya Guruji's birthday for the CIRS family to express their fathomless love and gratitude. The morning assembly was infused with the sweet notes of the birthday song. This was followed by a presentation on Guruji which was truly a treat to the eyes. Swami Swaroopanandaji spoke about the greatness of Swami Tejomayanandaji and motivated the students to think big like Guruji.
There was a special aarti in the evening where the choir of the school sang compositions of Guruji.  Some students shared about their wonderful experiences with Guruji. Dhanya a CHYK member, who had come from Australia to attend the camp, too shared her memorable experiences with Guruji. Swami Swaroopanandaji expressed his experiences with Guruji. Thus, the day ended with everyone looking upon Guruji as an epitome of qualities like humility, kindness and humour.
REPORT ON THE ALUMNI MEET 2014
On the 17th and 18th of May, 2014, CIRS invited the Alumni for an Alumni Meet for celebrating the 18th year of CIRS.

Seventy alumni from 1996 onwards till 2012 participated enthusiastically in this meet.

The school had organized variety of events for them. There was an inspiring session by Swamini Vimalanandaji, a welcome address by our Principal Smt. Shanti Krishnamurthy and a session on "CIRS Then, CIRS Now, by our Headmisterss Smt. Jaya Ravisankar. The Icebreaking session was guided by Swami Anukoolnanadaji.
Beside this, we also had various sports events between the present students and the alumni. There were also reflective and entertaining sessions like 'Time with Oneself', 'Musical Night', 'Trekking', 'Tour of CIRS' etc.

The alumni also relived the school days by attending Jogging, Spiritual Class, Assembly and Aarti.
Not only did the alumni enjoyed these sessions, they also contributed immensely by guiding and sharing their expertise on the various career options and college education for our present students. The present students interacted, learnt and enjoyed from these sessions thoroughly. We also discussed the strategies by which the alumni can contribute to school in various ways and also worked on strengthening the alumni data base.

One of the most cherished moment for the alumni was the Gurudev's Paduka Puja. They were overwhelmed and touched by the feeling of Gratitude.
SITARA GETS SELECTED FOR THE WILDLIFE PHOTOGRAPHER OF THE YEAR AWARD
CIRS congratulates Sitara for getting selected for finals of the wildlife Photographer of the Year award, a competition  co-owned by the Natural History Museum and BBC Worldwide,  two UK institutions that pride themselves on revealing and championing the diversity of life on Earth. Now in its 50th year, the Wildlife Photographer of the Year competition provides a global showcase of the very best nature photography.   
If you wanted to soak in a day long remembrance of Gurudev, CIRS was the place to be on this Gurudev Jayanti. Gurudev Jayanti has a special appeal here because of all the excitement that the celebrations bring to the children. Gurudev's Paduka Pooja performed by each student, an interactive activity-based exhibition of Gurudev's glories, a 5-D theatre simulation of the concept of liberation and an evening cultural program of music and dance marked the day long celebrations.
Chinmaya Nama Mahima was the theme of this year's Gurudev's Yatra. Gurudev's 108 names were divided into 12 stations. Volunteer groups of teachers and students at each station from Classes 12, 11 and 10, prepared skits, narratives and activities in order to explain various names of Gurudev. All other students who went through the exhibition were inspired and indeed overwhelmed to know who Gurudev actually was through this unique exhibition.
The afternoon saw a unique experience unfold for children. They were exposed to a video of the universe that included sense simulation through actual water sprays, snow sprays,  fragrances, confetti and flowers.
The celebrations ended with an evening program of dance and bhajans on the theme of Guru and Gurudev.
NBC'S 5TH NEWSMAKERS ACHIEVERS AWARDS
Newsmakers Broadcasting and Communication Pvt Ltd (NBC) hosted the fifth annual 'Newsmakers Achievers Award 2014' on May 1, 2014 at the Trident Hotel, Nariman Point, Mumbai. This year Pujya Guruji, Swami Tejomayananda received the award in the category of Lifetime Award, Spiritual Leader. As Pujya Guruji was unable to attend the ceremony, Swami Bodhatmananda received the award on Pujya Guruji's behalf. Swami Bodhatmananda was accompanied by Trustees and officials of Central Chinmaya Mission Trust and Chinmaya Seva Trust, Bombay.
Pujya Guruji's was introduced as follows: "He is an Indian spiritual leader and Head of Chinmaya Mission. He is a living portrait of simplicity with depth, humility with courage, and wisdom with devotion. Always jovial, smiling, and welcoming, he is readily accessible and approachable to all who seek the knowledge of Vedanta from him. After attending a couple of talks of Swami Chinmayananda on the Bhagavad Gita, Sudhakar Kaitwade was inspired to join Chinmaya Mission's residential Vedanta course at Sandeepany Sadhanalaya in Mumbai. Upon completing the course in 1975, he was initiated as Brahmachari Vivek Chaitanya. On October 21, 1983, Swami Chinmayananda initiated him into sannyasa, bestowing upon him the name, Swami Tejomayananda. As the Head of Chinmaya Mission Worldwide, Swami Tejomayananda-now known in the Mission as Pujya Guruji-has continuously and dynamically pursued his guru's grand spiritual and organisational vision."
As per the result of the general elections held on 29th April 2014, the following students have been elected as class representatives for the Academic Year 2014 - 2015.
5 A - Raswanth Barath, Harini Siva
5 B - Arnav Alok Ghurde, Rishitha Kota
6 A - Sathvika J, Mrugesh Sandip Thakor
6 B - Vaishnav G B, Sitara Karthikeyan
7 A - Aryan Kalaria, Dhruvi  Hiren Parekh
7 B - Anirudh P.K, Mutharasan Shreenidhi
7 C - Sideesh G, Aishwarya  S
8 A - Arjun Shriran, Dhruvi Vinod Patel
8 B - Prithvi  C.G, Medhanshi Mandawewala
8 C - Ajay Shiv J.P, Shreyah Pooranan
8 D - Shubham Saraogi, Dakshita Sangani
9 A - Koushik Karan, Amrutha
9 B - Pragadeeshwaran S, Sasikala Nair
9 C - Pulkit Choudhary, Lakshmi Annamalai
10 A - Adarsh Agrawal, Gunjan Agarwal
10 B - Ragavendra K, Jhanvi Punjabi
10 C - Anand Natarajan, Aishwarya Tharoor
10 D - Prathik Lunked, Yamini Potluri
11 Sc- Pranav Madhu, Soumya Panicker
11 Mgmt - Harsh Jain, Bhumika Lath
IB 1st Yr - Aditya Kanti Datta, Vennela Siri Medapati
12 Sc - Manish Chinmay, Bharathi Nimmanapalli
12 Mgmt - Athul Binesh, Urvi Gupta
IB 2nd Yr - Harsha Rao Pappu , Sarika Ashish Kale
The stunning photograph of "Five owlets perched on a tree" made it to the final round of judging at the photography competition (11 to 14 years category) conducted by BBC and London Natural History Museum, beating lakhs of entries.
This photograph was taken at a farm near Perur. She waited for three hours watching the two owlets that were already there. After a while, other three peeped out.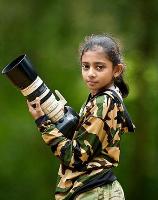 CIRS LINKS WITH OTHER SCHOOLS INTERNATIONALLY
St. CADOC'S CATHOLIC PRIMARY SCHOOL
Class 5 of CIRS students have partnered with class 5 students of St. Cadoc's Catholic Primary School, Cardiff, Wales on Inter-religious faith-discussion on Hinduism and Christianity. The theme is My belief, Your belief and Our understanding.
The students are regularly in touch through worksheets and letters. The students discuss their religion , its practices and also share the festivals with its symbolism. Media like Email, letter and video upload is used.
MAY MATH MUDDLE
May Math Muddle is an ongoing British Council Math project wherein some of our students of Grade 10 are involved. We are collaborating with St. Martin's School, Essex, UK in this project. As part of the project children will create a word problem using bitstrips application to create cartoon images. These word problems will be solved by the students of St. Martin's School and they shall send questions to us which our children shall solve. It is a new dimension to the subject and children will love doing this. Moreover, there shall be an exchange of knowledge. Given below is a sample problem for reference.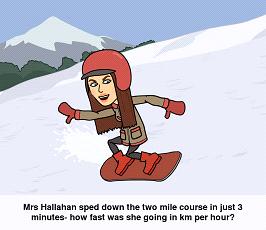 UPPER SECONDARY/TECHNICAL COLLEGE
The partnership with the school in Poland has been vibrant. Since the interaction started in February this year, many interactions have taken place. Starting with an introduction to both schools, discussions were about our different countries, festivals, languages spoken and cultural significance. Our project theme was Advertisements - Understanding the Language and Culture differences in them for which videos and worksheets were shared. The response for these videos was usually by a video recording by the partner school or a response received by email. The class has been enthusiastic in watching Poland advertisements and responding to them as well as working out suitable advertisements to send out to the partner school. It has been an interesting collaboration and lots of learning.
Visual Arts is an IB subject offered at CIRS. At the end of two years the Visual Art students put up an exhibition of their work. This year Ronika Thakkar and Dhruva Jyothi of 2012-2014 batch had put up an exhibition. Ronika's works circled around the theme of human emotions and landscapes. Dhruva's theme highlighted the relations and conflicts between man and nature. They elaborately explained the ways in which they had employed their artistic inspirations and the fundamentals of art in their work to the visitors.
On Wednesday, April 30th 2014, the Amphitheatre was brimming with life with the Radhikalaya girls. Girls of Grade 10, 11, 12 came together to put up a grand show. There were a variety of talents displayed such as singing (solo and group), poem recitation, dancing, skit, instrumental music, dance drama and a special song sung by Grade 11 students which was written and composed by Aparnaa (11 Mgmt). The audience was also entertained by our young wizard Bharati's magic show. Lakshmi's exquisite photographs, hair stylists displaying their creative styles, young aspiring artists displaying their paintings ranging from oil paintings to pencil sketches, fashion designs were a treat to the eyes. All these people together made the night a night to remember.
Gurudev Paduka Pooja was performed by the students of II Year IB praying for their success in their final examinations. It was performed under the guidance of Swami Anukoolananda. It is CIRS tradition that Gurudev Paduka Pooja is performed before all the major examinations seeking His blessings.
CIRS GENERAL ELECTIONS - APRIL  2014  
Election is the pulse of a democratic set up. It is the gateway to acquire the legitimacy of power. To make the students experience the taste of democracy with a hands-on activity, elections are held in CIRS every year to choose the class representatives.
Objectives for holding general elections @ CIRS
To cherish the democratic traditions of our motherland.
To have a first-hand experience of 'democracy' in a micro level.
To imbibe the essential ingredients of being a 'leader'.
On 29/4/14, during the morning assembly, Shri.K.S.Diwakar, HOD, Dept of Social Science/s briefed the students on the manner in which the election process would be unfolded.
Elections took place on 30/4/14. The student community as a whole utilized the campaigning time in a productive manner. The campaigning was monitored by a team constituted by the election commission of CIRS and it comprised of the Principal and the Headmistress. This time NCC cadets of std IX were deployed to ensure smooth conduct of election.  They were assigned with the task of carrying ballot boxes to all the constituencies (classes).  They also brought the ballot boxes from the polling booths to the counting centre.
Students of the Junior and Senior school participated in the election with a great deal of enthusiasm. The speeches made by the students during the campaigning reflected their positive mind-set, managerial abilities and their grasp on the prevailing conditions in each class which happens to be the battle ground or constituency.

After the polling, the ballot boxes were brought to the Maths Lab where the counting of votes took place. Counting of votes of done by class teachers and assisting class teachers.  On the whole, the entire democratic exercise was to reinforce the concept of education in citizenship and civic consciousness which are an integral part of the CVP.
Click here to view the gallery.
On 29th April'14 Children from Keshavalaya (9th and 10th) graders put up a Talent show in the Amphitheater in the evening from 8:45 till 9:30pm. Children sang songs, played Instruments, displayed Comedy, Yoga, Gymnastics, played the role of an Actor etc.  It was  a great experience
for all of us to see the wonderful talents our children have.
On 27 April 2014, Sunday @ 7pm, some of our children from 5th & 6th Grade performed a dance on the theme 'Love, Care and Serve the Nature' at the Chinmaya Gardens. We started from the campus at 6.50 and came back by 7.30. Total 11 girls were there in the dance. It was the part of Seva Camp Conducted by Swamini Vimalananda for the Chinmaya Vidyalaya students of Vadavalli, Coimbatore. The program starts with the narration of the dance and they performed it very beautifully. Every one liked and appreciated their performance. They have been awarded with a story book on Gurudev. The participants felt very confident by performing outside our campus.
CIRS celebrated Seva Week from 21st April to 26th of April 2014. Entire school from class 5 to class 12 were the part of this celebration.
Classes 5 and 6 were involved in making of book marks for our school library and they also went all around cleaning the campus. The best part was the mind blowing cultural show on 25th April 2014, at Amphi Theatre after their dinner.
They prepared eye catching invitation cards and invited Poojya Swami Anukoolanandaji, Madam Principal, Madam Headmistress, teachers and all junior school students. 
Through a skit, a group song, a group dance and a solo song they took the audience to THE WORLD OF SEVA. Through their skit they demonstrated 'how our ancestors played the role of sevaks', through the dance, they showcased 'how even the nature is being generous enough in serving the mankind', through the songs, they thanked the Lord Almighty for providing them the blessings in abundance.
In short, they created the awareness that SERVICE TO MANKIND IS SERVICE TO GOD – which is the essence of all the major religions in the World.
Classes 7 and 8 were equally involved in undertaking various Seva activities.
If a question is asked,"O! Mother Nature, how can we serve you?" Probably the answer might be,"Reuse, Recycle and Reduce". Our children got an opportunity to make paper bags which would be given away to different departments of CIRS and shop keepers.
If we ask 'O! Grandparents, what can we do for you?" They may say, "Can you spend some time with us?"Our children were delighted and inspired to interview the senior citizens of our Chinmaya Gardens Ashram.
Becoming aware makes one care about our surroundings. Children enjoyed viewing various video clippings on issues of cleanliness and hygiene and expressed their views about them.
Attitude of sharing expands our vision. Children generously donated and collected clothes and stationeries from members of CIRS family, sorted them out neatly and sent them to a NGO,'Udavum Karangal'.
Now the most interesting part. They were so very excited and enthusiastic about serving the juniors in the dinning hall. Students yearned to get this unique opportunity of service. Due to too much of eagerness from their side, this activity is going to get extended giving opportunity to many more of them.
Our classes 9 and 10 were not behind, on 24/4/14, a group of 30 students comprising of std IX and X were taken to Udavum Karangal which is situated in the outskirts of the city. They were accompanied by Shri. Diwkakar, Shri.Parthiban,Smt.Mythili Prasad and Smt.Sujatha The main aim of this visit was to expose the students to a world where the less privileged people battle out the odds of their lives. Our students sang two songs and performed two dances. The inmates responded to the program by expressing their enthusiasm in the form of clapping. In the end, they too entertained us with songs and jokes. Cloth materials which was collected from the students and teaching community was handed over to them. In addition to this, we also handed over the financial contribution collected from the teachers. On the whole the trip was an eye-opener.
In a stone's throw from Udavum karangal lies Gaushala where cows and buffaloes are maintained. These cows are rescued from slaughter houses. These cows are fed with the help of a fund which is generated by the Jain society members in the city.
They were engaged in the task of making book-marks. These students threw their heart and soul for the work and the book-marks which they have made contains slogans on the need to promote seva attitude. This work was planned and monitored by Smt.Jayanthi Shankar and Kum.Gita Rani.
Classes 11 and 12 were involved in making of Quiz on various personalities who rendered service to the society. This quiz was conducted by them in the assembly for the entire school. They were extremely enthusiastic while cleaning the CIRS campus.
The whole week went in serving oneself by serving others. Truly fulfilling and a meaningful experience.
Click here to view the gallery.
AKASH GHAI WINS ART AND HUMANITIES AWARD
Akash Ghai (IB 2012 batch), had the opportunity to present his documentary project about young immigrants in the annual Undergraduate Exhibition for student research at Penn State. He has been awarded the Arts and Humatiies award for his project.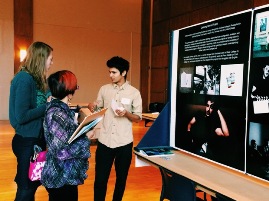 SEVA WEEK CULTURAL PROGRAMME
In connection with Seva Week Celebrations, class five and six students presented a mind blowing cultural show on 25th April 2014, at Amphi Theatre after their dinner.
They prepared eye catching invitation cards and invited Poojya Swami Swaroopanandaji, Madam Prinicipal, Madam Headmistress, teachers and all junior school students. 
Through a skit, a group song, a group dance and a solo song they took the audience to THE WORLD OF SEVA. Through their skit they demonstrated 'how our ancestors played the role of sevaks', through the dance, they showcased 'how even the nature is being generous enough in serving the mankind', through the songs, they thanked the Lord Almighty for providing them the blessings in abundance.
In short, they created the awareness that SERVICE TO MANKIND IS SERVICE TO GOD – which is the essence of all the major religions in the World.
On  20th April'14,  the  Krishnalaya students (boys of Classes VII B, VII C & VIII)  presented a 'Talent Show'  at the Amphitheatre after dinner.  Following was the program:
Solo song
Group song
Skit
Instrumental Music
Bhahulia (solo music on keyboard)
Concept Story Questioning
Rubic Cube
Poem Recital
Splash Painting
Dialogue Mimicking
Dance
Back stage arrangements, background music and Computer technology were all managed by the students of Krishnalaya.
A 'Talent show' was organised for the students of Gopikalaya dorm on the 18th of April 2014.  All the girls participated enthusiastically. They dazzled the stage with their performances.
The evening began with Ganesh Vandana - a group dance performance.  Srithiga (grade 8) and Samriddhi (grade 7) were the emcees of the show. Dhruvi (grade 7) danced to the Hip Hop beats. Devika (grade 8) mesmerised the audience with her graceful dance performance. S Aishwarya (grade 7) rendered a beautiful song in her melodious voice, Kriti & Jahanavi (grade 8) presented an amazing dance with the Hoola hoop, Srinitha (grade 7) displayed her origami talent and Mehek (grade8)  solved the rubic cube within one minute and 8 seconds. It was a good opportunity for our young budding artists to showcase their talents.
The evening ended with all the girls coming to the floor, trying out their dancing skills. It was a pleasant and a memorable evening.
Our school conducted the Inter-house Water Polo meet on the 18th and 19th of April. All the houses played with great zest and sportsmanship. Vyasa led by Ayush Mittal bagged the 1st position with Valimiki led by Ayush Anand in the runner up position.
Vyasa team members - Aysuh Mittal, Sanjeev E., Satyanand, Nihar Hegde, Haswanth
Valimiki team members – Ayush Anand, Ayush Panchamiya, Uday Gosain, Roshen Muruganand, Mudit Bhatia
It was a great source of entertainment as well as experience for the spectators as well as the players.
Click here to view the gallery.
CIRS does not believe in gender discrimination. Our CIRS girls proved this by participating in the cricket tournament. There were 2 categories - Junior girls (Classes 5 to 8) and Senior girls (Classes 9 to 12). In the Junior category, girls of Classes 7 and 8 played against Classes 5 and 6 and defeated them. In the Senior's category Classes 11 and 12 emerged as victors in their match against Classes 9 and 10. Overall, it was a healthy tournament where wickets were taken and boundaries were hit.
CIRS students (Classes 9 to 12) unleashed their true sportsmanship during the Chinmaya Cricket Knockout 2014 held on 16th and 17th April 2014.
Class
Team Name
Captain

9

Olympians
Abhimanyu Gangwar

10

Trollers
Nihar Hegde
Terminators
Arjun Elango

11

Predators
Kaushik Sabu
Impulse
Vasishth

12

Revengers
Herschvardhan Jayvant Ranjalka
Incurza
Ayush Mittal
The cricket festive started off with each grade introducing their teams through presentations during the assembly. At the end of Day 1 the Revengers, Impulse and Predators made their way to victory after playing against the Trollers, Terminators, and Incurza respectively.  Day 2 began with the match between Admin and the Faculty where the Admin team led by Mr Siva Kumar stood out as winners. This was followed by the semi-finals at the end of which Predators and Olympians made it to the finals. Predators led by Kaushik Saboo emerged as winners for the second consecutive time. The title of Best Batsman was bagged by Herschvardhan Jayvant Ranjalka and Best Bowler by Aditya R Nair. Harsh Jain was recognized as the Most Promising Player.
Kaushik Sabu (Predators)

Herschvardhan Jayvant Ranjalka (Revengers)

Aditya R Nair
(Impulse)

Harsh Jain

Man of the match

Best Batsman

Best Bowler

Most promising player

Scored 90 runs & 6 wickets

Scored 60 runs

3 wickets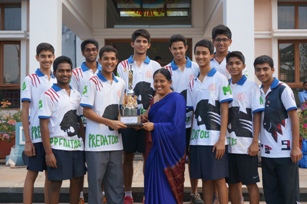 Winning Team
Terminators' jerseys were declared as the Best Jersey for its unique design.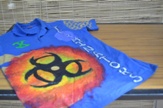 Best Jersey
Click here to view the gallery.
"Subhashi badge" is an honour bestowed upon those students who avoid the use of foul language. Sathvika J (VI A), Prateek Tripathi (VII C), Kirithik A.J. (VIII C), Sowmiya Selvaraju (VIII A) and Arjun G (VIII A) were awarded a "Subhashi badge" and a certificate on 7th April 2014.
It is a known fact that peer teaching not only helps the average student but also creates a very healthy atmosphere around. The following students have been identified and recognized for their wonderful work in their role as peer teachers helping more than 15 students on a regular basis.
Class 5 – Surtaringini, Ami, Neha, Rishi , Nitya, Vaishnav
Class 6 – Jwalit, Aryan Kalaria, Shakti, Rithu, Tarun, Prnav Krishna, Aksedha, Sadhana, Sushain
Class 7 – Abhishek, Jai Balan, Dhruv Sharma, Shubam, Aditya Tantri, Raghav, Madhav, Arjun Giri, Harshit, Sudarshan, Kanav, Jensy, Ashwini, Soumya, Medhanshi
Class 8 – Kaushik Karan, Deekshita, Bharat

CRAFTING YOUR CHARACTER THROUGH NOTEBOOK MAINTENANCE
According to Indian culture, notebook or any written material is considered a manifestation of Goddess Saraswati. The state of a notebook helps one to determine how messy or organized a student is.  Experience has indicated that skillful notebook use is developed by most students only through continued special effort--it does not come naturally.
As part of crafting the character of a student, CIRS encourages children to keep their notebooks neat, complete and beautiful. The following students have been recognized for maintaining excellent notebooks.
Class 5   – Harsheni V., S. Netigaa
Class 6A – Harsheeta
Class 6B – Nikedna
Class 7A – Palak Jain
Class 7B – Kaviya Senthil Nathan
Class 7C – Harsh
Class 7D – Ishika Agarwal
Class 8A – Jeshil Sadaria
Class 8B – Megshyamum Chaudhary
Class 8C – Sasikala Menon
WILD LIFE PHOTOGRAPHER AWARD 2014
Sitara Karthikeyan of Class V participated in the Wild Life Photography contest held on April 12 at Codissia, Coimbatore. She was awarded the Wild Life Photographer Award 2014.
Two teachers from Dogkennel Hill School (UK), Ms Sabiha Hussain and Mr Wayne Cooper (Head Teacher) visited CIRS. They arrived on the 6th of April 2014. They went through all the subject and language classes, Art  and Music classes. They experienced our rich Indian culture and traditions by attending Ram Navami celebrations and spiritual classes held in the morning. They were visibly impressed by the early morning jogging and yoga classes held for our students. Both the teachers relished the Indian Cuisine and the bountiful greenery of our school.
They left on the 10th of April with pleasant memories. This was a great academic as well as cultural exchange between the two schools.
YERCAUD ADVENTURE TRIP
The students of classes 12, 9 and 10 attended adventure camps organised by Youreka in Yercaud, Salem during March - April. The 10th graders left for the camp on March 25th, 12th graders on April 1st, and the 9th graders on April 15th.
The initial ice breaking sessions were games that enhanced brain power and taught the true meaning of teamwork. Rock climbing and bouldering helped the students understand how to hang on even in the most difficult of situations. Using only a compass, students navigated through forests. Night out was an incredible experience that taught the students how to pitch tents, collect firewood and cook their own food. Rappelling was an activity where students climbed down a steep cliff whilst hanging on to a rope. The 12th graders were treated to a surprise as they took part in Target Jumping where they had to jump off a branch of a tree, 70 metres above the ground in order to hit a target. Solo night gave an opportunity for the students to introspect by spending some time alone in the forest at night. Camp fun included activities where the students displayed their talents, and washed plates after every meal which was something that everyone enjoyed. All in all, the four days were an amazing journey of new experiences, skills and self discovery.
CIRS is happy to share with the parents on the introduction of in-house College Counseling Program. This program provides guidance to those students interested in applying to school outside of India. With proper support and advice, your child will surely succeed in the challenging and cumbersome endeavor.
We have two exceptionally qualified CIRS faculty that have designed this beautifully structured program:
| | |
| --- | --- |
| | |
| Ms. Sandipa Bhattacharjee | Mr. Ganesh Eswaran |
| Head of English Department | IB Coordinator |
| IB/CBSE English Educator | IB Physics Educator |
Regular sessions will be taking place weekly, covering a variety of topics from the 'intricacies of the college application process' to 'writing the perfect personal statement' to 'advice on staying focused while in college'. Throughout this process, the students will be guided in all aspects of the application process. The team will also ensure timely submission of all requirements. As always, we encourage Parents to have candid conversations with your children about future prospects.
In the future, the team will send updates on the progress of the program to the parents. The team is available for queries at counselor@cirschool.org
LEARNING INITIATIVES AT CIRS
PSYCHOLOGY LAB
Psychological tools and techniques help to uncover the latent aspects of an individual's behaviour. Thus they aid in understanding, predicting and controlling the human behaviour, which is the fundamental aim of psychology.
Practicals in psychology are indented to provide students with requisite knowledge and skills in psychological tools and techniques. Keeping in view the CBSE syllabus of psychology, the students would undertake practicals in psychological testing which would involve using standardised psychological tests in different domains, i.e. intelligence, personality, aptitude, adjustment, attitude, self-concept and anxiety. To make these happen, CIRS has established a Psychology lab with appropriate equipments and tools for testing.
Activity based learning in Science at CIRS
Science at CIRS is going to change the way your child thinks. Gone are the days of lessons taught in the classroom. It is hands-on experience that brings lessons alive. So - come new session, students of Classes 5 to 8 will participate in a unique enrichment program where they will do their own experiments before a concept is taught, during the lessons and after the concept has been discussed in class. All this, apart from the usual activities prescribed by the NCERT textbooks. This is guaranteed to make science exploration a way of life at CIRS.
That is certainly not all:
Classes 5 and 6 also get to participate in this fantastic new learning experience promoted by the National Geographic Magazine where they get 7 issues per year and after reading the magazine, they get quizzed on the contents rich in Science and Environment. This is a truly international experience and the children are expected to grow from this universal outlook with a truly global understanding of their being.
The Major Resource Components are
READING THE NATIONAL GEOGRAPHIC EXPLORER MAGAZINE FOR EVERY CHILD

(7 ISSUES PER YEAR), WORKSHEETS AND QUIZZES

CLASSROOM POSTERS WITH EVERY ISSUE
PROJECTABLE (INTERACTIVE SMART BOART) CONTENT
WEBSITE FOR STUDENTS WITH RICH CONTENT AND RESOURCES
INCLUDES PICTURES, VIDEOS, ANIMATIONS AND READING MATERIALS
CIRS receives TOP SCHOOLS OF INDIA AWARD
CIRS received the TOP SCHOOLS OF INDIA 2013 AWARD from Digital Learning,  Asia's premier magazine on education.  Digital Learning magazine presents the top schools of India with a  purpose to highlight the positioning of schools after analysing them on various parameters for the overall development of a child.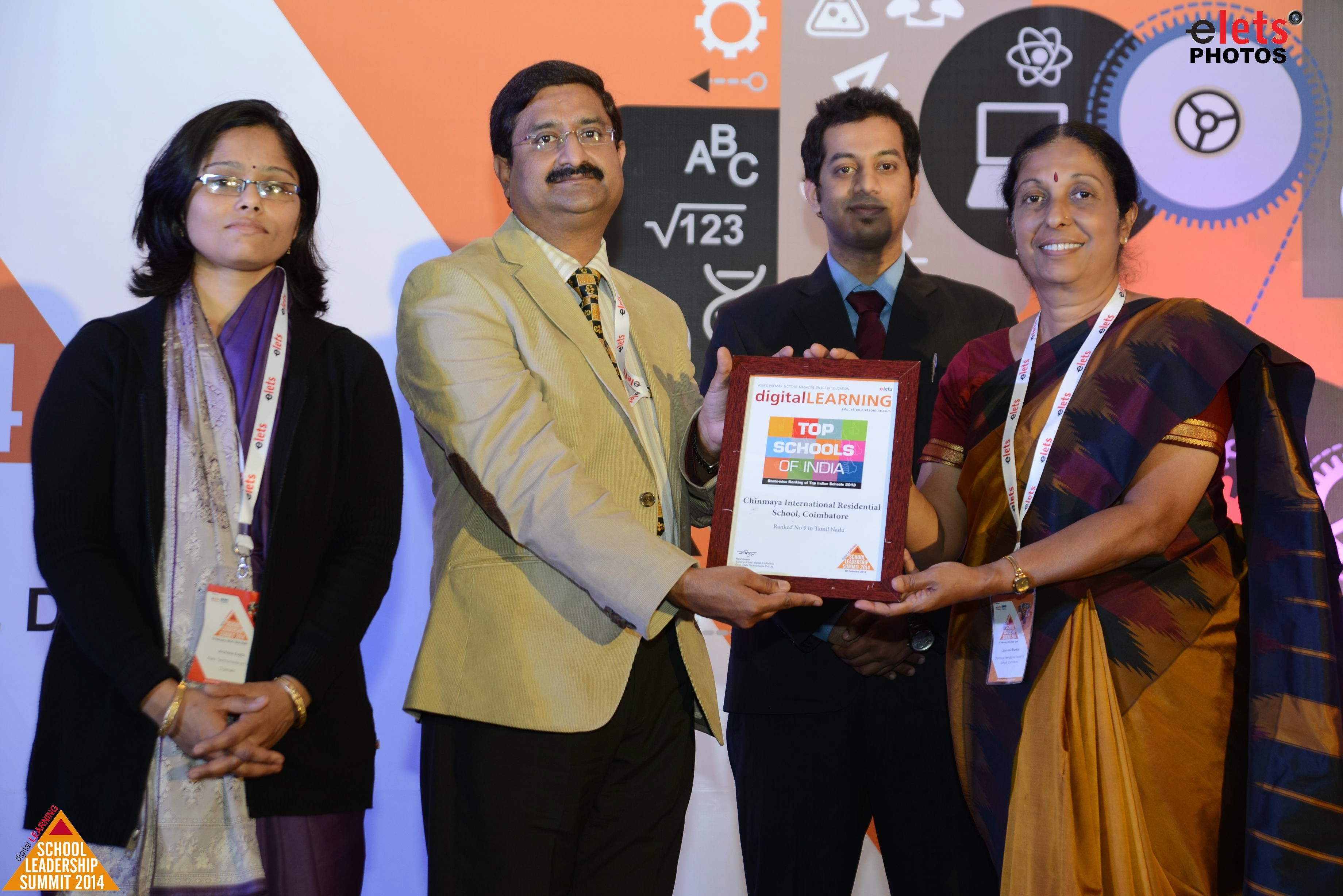 In order to give more opportunities to the children and to bring out their musical talent, the Music Department has introduced Instrumental hobby classes from Wednesday 12th February 2014 for Veena, Violin, Guitar and Flute. Artists from Shivanjali - The Temple of Arts, Coimbatore are visiting and training our children. Mr. Vijayendra Rao for Veena, Mr Raghunathan for Flute, Mr.Devasenapathy for Violin and Mr. Pradeep for Guitar. Students have been categorized into two groups - Classes 5 to 8 and Classes 9 – 12. The classes shall be conducted every Wednesday.
Our school is working with schools in England (Dog Kennel Hill Primary School) and Wales (St Cadoc's) on different projects. The students across the classes from 5th grade to 8th grade are involved in these projects. One of the collborative projects was on religion.
Our school participated in the Interschool Sahodaya Cricket Tournament held in PSG IMS ground conducted by PSG Public School. In the U-19 category we emerged as winners and in the U-14 category our team secured the runners-up position.
Our U-19 cricket team also participated in the CDCA Non-Age category and reached the semi-final stage.
U-19 Team
Aditya Kedia, Sarat Mitra Nanda, Jindal Gopal, Akash Kedia, Gumma Venkata Satya Prasanth, Anshul Khemka, Devanshu Agarwal, Kaushik Saboo, Kevin Pareshbhai Kakkad, Abhishek Kekal Patel, Kenil Tarun Patel, Sriniketan Gnanavel, Poornavenkata Ranganatha Koushik, Yugansh Agarwal, Saraf Harsh Shrawan and Shantanu jalan.
U-14 team
Mohatta Parth Pankaj, Saraf Harsh Shrawan, Vedansh Sharma, Jeshil Sadaria, Meet Bhanderi, S Pragadeeshwaran, Vignesh R, Aditya Tantri, Yugansh Agarwal, Poornavenkata Ranganatha Koushik, Saravanan Raja, Prakarsh Tulsyan, Govind Gokul, Vedant Mimani, Bhupendra Dalpat Singh and Raghav Agarwal.
Bal Sevak Award
The Chinmaya Bal Sevak Certificate was initiated by the CCMT Education Cell for undertaking services for a minimum of 120 hours in various categories like Seva at Home and in School, Seva for the society, Seva for a Universal Cause, Seva with NGOs, Seva for the challenged etc.
21 children from CIRS rendered their selfless service from 120 to 220 hours in the above categories. This was acknowledged in a big way by CCMT Education Cell when they awarded the prestigious Bal Sevak Certificate, with the highest grade, to all these very deserving students.
CRAFTING ONE'S CHARACTER THROUGH BHAGWAD GEETA
The faculty members of CIRS experienced the waves of sublimity as Pujya Swamiji explained the first chapter of Bhagwad Gita in its true essence. An important realization was that there is a war waged within every individual in all the crucial moments of action, and in all cases, the negative forces in each are larger in number, while the inner divine army is lesser in number and apparently, comparatively weaker in efficiency. This leads to confusion and grief.